Call of Duty European Championship: What it's like to watch eSports at the Royal Opera House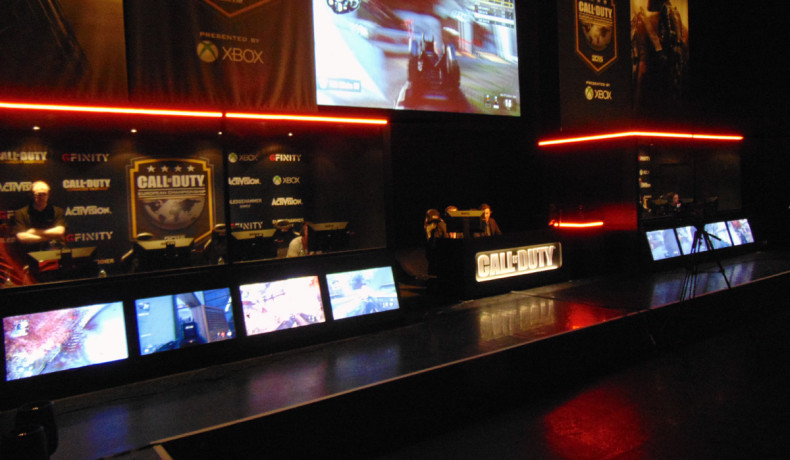 Anyone who has ever watched someone play a video game will tell you what a frustrating experience it can be. "No, what are you doing? Don't do that. You're going the wrong way, eugh... HOW DID YOU NOT SEE THAT COMING?!"
I've never really enjoyed watching others play, which is why I haven't shown much more than a passing interest in professional gaming - or eSports. The booming off-shoot of the industry is only just starting to make serious waves in the UK, and there's no greater proof of how far eSports have come than a tournament taking over London's Royal Opera House (ROH).
Think of the Royal Opera House and I think of epic operas (and how I've never seen one) and delicate ballets (and how I've never seen one). What I wouldn't have thought of is Call of Duty, but it was there that Activision and Xbox hosted this year's European Championships.
Occupying the ROH's 400-seat Linbury Studio Theatre, 28 teams of four battled it out in the latest game – Call of Duty: Advanced Warfare - for the chance to go to the world championship at the end of March. Spread across two days, the first saw 14 matches decide those who will go to Los Angeles, while on Sunday those 14 winners duked it out for the £10,000 regional prize pot.
Invited along for the first day I wasn't sure what to expect. Professional gaming has always seemed like a curious oddity, but attending an event revealed why it is so huge, and why it is only going getting bigger.
My reservations about watching other people play games held no water among the highly-skilled pro gamers competing for the weekend's prize. Matches move at such high speeds and there is such precision in their shooting that watching becomes as impressive as it is thrilling.
What also impressed me was the production value. I've seen videos of such events before but to see one in person was something else entirely. Of course given this is an official Call of Duty event there is plenty of money lavished on proceedings – but beyond the set dressing everything moved like a well-oiled machine.
Everything was geared toward audience enjoyment, with matches are structured to keep them enthralled with a best of five scenario, each round taking place on a different map with a different game mode.
There were even commentators (called casters in eSports) and they were every bit as professional as those covering "real" sports - perhaps even more so. Alan 'Bricey' Brice and Oliver 'ReL' Whitfield discussed each match ahead of its start, highlighting players to watch out for, discussing tactics and making (often accurate) predictions.
A lot better than you get on ITV's football coverage then.
The whole package makes for an engaging spectator sport, and I couldn't have asked for better example of competitive Call of Duty than the second match I saw. Billed as the clash to watch that weekend, Team Infused took on Millenium in a match tipped to be the first to go the whole five rounds at the event.
The back and forth contest took nearly an hour to complete, with the rival teams fighting a tense contest. In round one Millenium cruised to an easy win in a game of Hard Point, but Infused then returned the favour with a win in round two's game of Search and Destroy.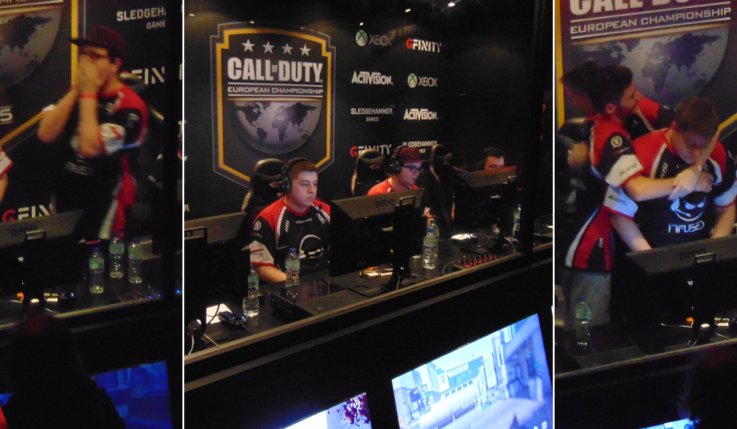 Team Infused during and after their win over Millenium.
Ben Skipper
Infused carried their momentum into round three, securing a dominant 14-7 win during a game of Uplink (think Call of Duty basketball). Millenium weren't done however, winning a tight round four game of Capture The Flag to take the match to its fifth and final round.
Returning to the Search and Destory game type in which Infused cruised to victory in round two, the pressure was on Millenium to fight back. At one point it looked like they might just do so, but Infused eventually closed out their 5-1 advantage to win 6-3.
The tension could be read on each of the eight players' faces and Infused's elation was obvious when they attained a well-deserved win. Jumping into each other's arms they had every right to be happy, after all they're off to LA to compete in a tournament worth $1 million.
I interviewed Millenium's star man Mark 'MarkyB' Bryceland before the weekend's events and managed to grab Team Infused's Shea 'Gwiker' Sweeney after his side's win. The interviews can be read here.
Press from around Europe were in attendance to cover the event, and overall the atmosphere was joyous. After all, what's the point in watching people play video games if you're not having fun? Undoubtedly the Millenium/Infused match was the highlight, peppered as it was with moments that gripped the crowd.
A quick three kills in succession from MarkyB in the opening round provoked cheers from the crowd, and later instances of brilliance from other players also drew praise from an audience there to support the eSports scene more so than any individual team.
A lot of people have and will turn their noses up at professional gaming as they have to gaming on the whole for some time. If eSports keeps surprising those who endeavour to find out more about this crazy, fun world however, then its future is secure.