The body of a Cambridge student who disappeared in Egypt on the anniversary of the 2011 revolution has been found in Cairo sporting cigarettes burns, stab wounds and signs of torture. Giulio Regeni, from Italy, went missing in the Egyptian capital, where he was doing research for his PhD studies, on 25 January 2016.
His body was retrieved by the side of a suburban highway on Wednesday (3 February). The Italian foreign ministry expressed bewilderment at the death and summoned the Egyptian ambassador to demand a throughout investigation, in cooperation with Italian experts.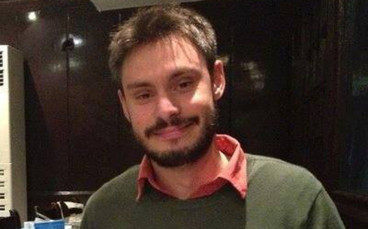 The request came after Egyptian authorities initially appeared to dismiss the incident as a road accident.
The 28-year-old, from the small town of Fiumicello, near Udine in Italy's north-east, was pursuing a PhD with the Department of Politics and International Studies at The University of Cambridge, and moved to Cairo in September 2015 for a research project on the Egyptian economy, Italian media reported.
On 25 January he was due to visit a friend for a birthday party but never arrived. He vanished, as Egypt marked the anniversary of the uprising that ended the long rule of autocratic president Hosni Mubarak, sparking fears he had been caught up in a police swoop on anti-government demonstrators.
Mubarak's successor, Mohamed Morsi was deposed in a protest-backed coup led by current president Abdel-Fattah el-Sisi, who subsequently launched a harsh crackdown on the opposition, followed by reports of widespread torture, beatings and human rights violations in Egyptian jails.
As Regeni was missing, Sisi told Italy's Minister for Economic Developement Federica Guidi, who was on an official visit in the country, that he was personally following the case. Meanwhile Cambridge students started an online campaign searching for the student.
Regeni's body was eventually found on 3 February off the Cairo-Alexandria Road in the 6 October suburb of western Cairo. Prosecutor Ahmed Nagi told AP that "all of his body, including his face" sported signs of violence and torture, including multiple stab wounds and cigarette burns, suggesting a "slow death."
The development seemed to contradict earlier statements by investigating authorities that claimed the death was consistent with a road accident. Khaled Shalabi, the director of Cairo's twin province of Giza general investigations administration, reportedly told local media the death was not suspicious.
His deputy Alaa Azmi told AP Regeni's injuries were "bruises and cuts", adding that a preliminary forensic analysis didn't mention any burns. "We have to wait for the full report by forensic experts. But what we know is that it is an accident," Azmi said.
The head of Regeni's home region of Friuli Venezia Giulia, Debora Serracchiani, called for a transparent investigation "to shed full light" on the death. "We are dismayed," she told Ansa news agency. "Our thoughts are with the family that is living times of unspeakable suffering."
The University of Cambridge tweeted its condolences.