Cambridge University student equality leader praises London rioters: 'All white people are racist'
Jason Osamede Okundaye also boasted that white people were going to 'get it'.
The student head of a Cambridge University equality group has provoked anger after praising rioters in east London and saying "all white people are racist" and that they "can all geddit [get it]".
Jason Osamede Okundaye, president of the elite university's Black and Minority Ethnic society, made the controversial comments to thousands of his followers on his protected Twitter account on Friday night (28 July).
According to MailOnline, Okundaye wrote in one tweet: "ALL white people are racist. White middle class, white working class, white men, white women, white gays, white children."
The Pembroke College student then added: "They can all geddit".
Another tweet from the student read: "Watching these middle-class white people despair over black people protesting in their colonised Dalston is absolutely delicious."
A third tweet saw him post a picture directed at "these rioters in Dalston" which contained the message: "You're doing amazing sweetie."
The tweets prompted a backlash on social media, with some calling for him to be removed from his post and for Cambridgeshire Police to investigate.
One user wrote: "Talk about negating all the hard work the BAME team do at Cambridge. Can't see the irony, I suppose."
Another added: "Disgusting ... Can you imagine if a white man said this."
Okundaye, 20, only became president of the Black and Minority Ethnic society in June having served as vice president for a year, according to his LinkedIn page.
Details about his position for the group have been removed from his Twitter bio since he made the tweets.
A spokesman for Cambridge University told MailOnline: "The College is looking into this matter and will respond appropriately."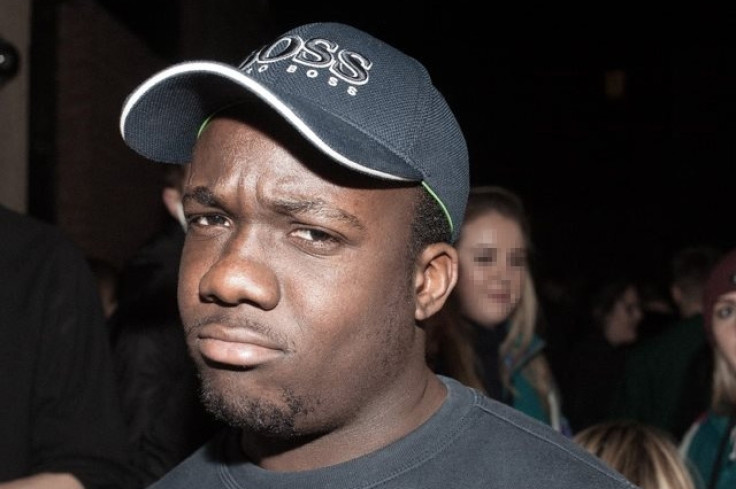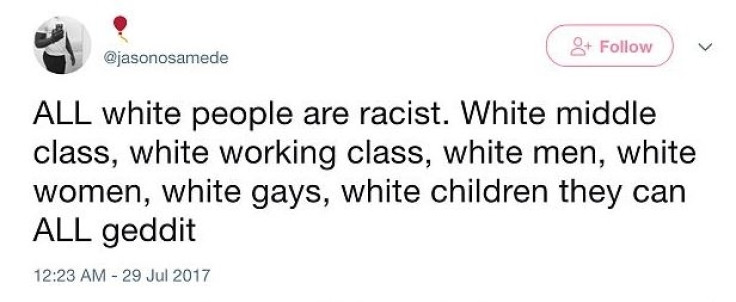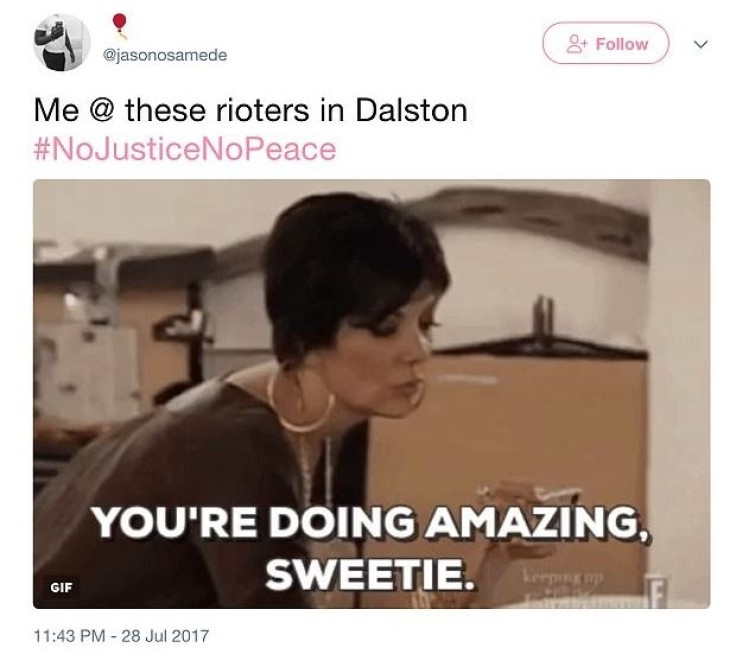 The tweets came amid violent protests in Dalston over the death of Rashan Charles, a 20-year-old black man who was apprehended by police last Saturday (22 July).
He was later taken to Royal London hospital where he died. The Met Police said Charles was seen "trying to swallow an object" as he was being apprehended and that an officer "sought to prevent the man from harming himself."
The Independent Police Complaints Commission (IPCC) is investigating his death.
On Friday, a protest over the death saw dozens gather outside the Dalston convenience store where Charles was tackled to the floor by police officers.
It began turning violent at about 3.40pm, police said.
Video footage of the unrest showed demonstrators – some of them wearing masks – throwing bottles and fireworks at riot police as they sought to quell the disturbance.
Protesters also barricaded part of Kingsland Road with wheelie bins, mattresses and rubbish to prevent vehicles passing through. Some of the items were set alight.
Windows were smashed in several Kingsland Road shops, Press Association reported, while some restaurants in the area pulled down their metal shutters, trapping customers inside.
The disturbance was said to have subsided by around 10.45pm.
The violence has drawn parallels with the London riots in 2011, which erupted following the police shooting of 29-year-old Mark Duggan in Tottenham.
The Charles family re-issued a statement first released on Monday, calling for calm.
The statement said: "We appreciate all support, but any hostile actions or other events, at this stage, that may risk detracting from our current cooperative engagement with the IPCC and Met police is unwelcome."
Philip Glanville, the mayor of Hackney, said the community wanted to hold peaceful protests, but claimed people from outside the borough wanted to "engage in vandalism and unrest."
"What we've tried to do all week is separate the two groups, to recognise the rawness of the anger out in the community," he told the BBC.
A spokesperson for the Met Police said: "At approximately 3.40pm, a number of items were placed on the highway of the A10 Kingsland Road, close to Middleton Road. A number of items including bottles have been thrown towards officers."
The IPCC said: "We understand the concerns raised following Rashan's death. We will independently examine the circumstances of this incident, we will follow the evidence, we will consider whether there is an indication there may have been misconduct or criminality, and we will seek to answer the questions that Rashan's family and the community of Hackney understandably have."
© Copyright IBTimes 2023. All rights reserved.