Rights groups are calling on the Cameroon government to start an independent investigation on deaths that occurred during protests in its Anglophone areas. The unrest, started in October, has resulted in the death of at least four protesters in Bamenda, capital of North-West region, according to police sources. Dozens have been arrested.
"Authorities in Cameroon must shed light on the circumstances of these killings and injuries by immediately conducting thorough, impartial and effective investigations. Those reasonably suspected of criminal responsibility for these deaths must be brought to justice," said Ilaria Allegrozzi, Amnesty International's Central Africa Researcher, in a statement.
"We call on the Cameroonian authorities to refrain from the use of unlawful force in its response to the protests. Responding to incidents of violence during protests with unnecessary or excessive force threatens to further enflame an already tense situation and could put more lives at risk."
Lawyers, teachers and students in North-West and South-West provinces – Cameroon's only English-speaking areas – have been striking in protest against the use of French in courts and schools, and the presence of "Francophone teachers" in English-speaking schools.
Some groups have taken to the streets demanding a return to a federal state system and the breakaway of the North-West and South-West provinces and the restoration of the so-called "Southern Cameroons", or the Republic of Ambazonia, a British mandate during colonisation.
The Cameroonian government, which denied allegations of excessive force by military and police to quell protests, is engaging with the organisers of the strike. However, it has rejected calls for a referendum on a possible return to a federal system.
Some analysts have claimed authorities are failing to address people's long-standing grievances that go beyond the use of French in courts and schools.
As protests and strikes continue to affect the two provinces, the government banned media from covering the unrest, angering journalists.
The order was signed by the South-West Regional Delegate of Communication, Muma Rosette Bih, and called on private media owners to respect the government's "social communication and editorial policy."
Southern Cameroons and independence calls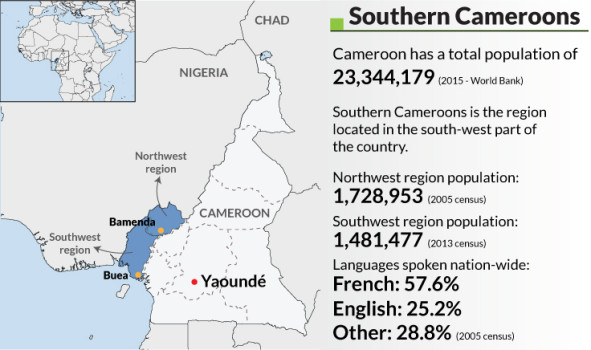 Southern Cameroons was the southern part of the British Mandate territory of Cameroons during the colonisation.
In 1961, people of Southern Cameroons voted whether to join Nigeria or the Republic of Cameroon, which had already obtained independence from Britain and France one year earlier.
The vote resulted in Southern Cameroons becoming part of the French speaking Republic of Cameroon.
In 1972, a new constitution was adopted in Cameroon, replacing the federal state with a unitary state.
The "Cameroon Anglophone Movement" was created in 1984. People originally sought a return to a federal system, but eventually started calling for independence.
More on possible alliance between Southern Cameroons and pro-Biafrans.