Nigeria-based Boko Haram terrorists have often carried out attacks in neighbouring Cameroon, particularly in the Far North region, since they started their insurgency in 2009. The Islamist outfit, blamed for the death of thousands and displacement of millions, is renowned for carrying out suicide bombing missions in crowded places such as markets, mosques and schools.
Troops from Cameroon are currently part of a regional offensive consisting of 8,700 soldiers also from Nigeria, Niger, Chad and Benin.
The task force has scored some successes, such as the recapture of key territories and the release of thousands of civilians held captive by Boko Haram, leading Cameroon to reopen its border with Nigeria and relaunch business activities with the neighbouring nation.
However, growing tensions in Cameroon's anglophone areas are leading some to fear the instability could represent a new recruitment opportunity for Boko Haram, which has made frustration and anger deriving from poverty, disenfranchisement and lack of economic opportunities, its major recruitment drivers.
'Long-standing' grievances
Lawyers, teachers and students in North-West and South-West provinces – Cameroon's only English-speaking areas – have been striking in protest against the use of French in courts and schools, and the presence of "Francophone teachers" in English-speaking schools.
Some groups have taken to the streets demanding a return to a federal state system and the breakaway of the North-West and South-West provinces and the restoration of the so-called "Southern Cameroons", a British mandate during colonisation.
The unrest has resulted in the death of at least four protesters in Bamenda, capital of North-West region, according to police sources, and the arrest of dozens of people.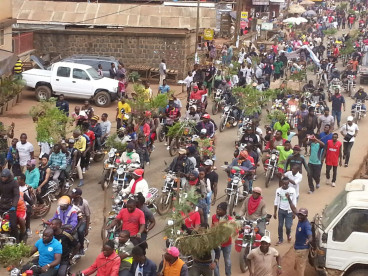 Speaking to IBTimes UK on 12 December, Wilfred Tassang, secretary general of Cameroon Teachers' Trade Union (Cattu), confirmed teachers, students and lawyers were still striking.
"Teachers risk having their salaries suspended but we are prepared to go the whole hog. The government continues to deny the existence of an anglophone problem. The days ahead are uncertain," he said.
Both the High Commission of Cameroon in London and a spokesperson for the country's defence ministry have not replied to a request for a comment.
The Cameroonian government, which denied allegations of excessive force by military and police to quell protests, is engaging with the organisers of the strike. However, it has rejected calls for a referendum on a possible return to a federal system.
Some analysts have claimed authorities are failing to address people's long-standing grievances that go beyond the use of French in courts and schools.
"What started as a conflict between civil law and common law has metamorphosed into a call for arms and violence against the security services. This rhetoric, albeit its clear differences, reminds one of how the killing of police officers by angry youths in Nigeria's Borno state escalated into what is now Boko Haram," David Otto, counter-terrorism expert at UK-based TGS Intelligence Consultants, told IBTimes UK.
"The relative peace that the country [Cameroon] enjoyed is hanging by a thread. It is only a matter of time before Boko Haram spots a golden opportunity if not already to blend within angry youths and cause maximum casualty on unsuspecting population.
"The intervention of the prime minister and other members of government to calm the situation down is viewed by the people as a way to address the consequences of the strikes and not the primary causes of the initial protest," Otto, who is also a senior adviser for Global Risk International, continued.
"These two cannot be confused at this stage. Everything must be done to appease the people and avoid bloodshed."
Who are Boko Haram terrorists?
Boko Haram, which has renamed itself Iswap, fights against Western influence in Nigeria and aims to impose its version of Sharia law throughout occupied territories.
The group launches attacks in Nigeria and neighbouring countries in a bid to take control of more territory. Three Nigerian states – Adamawa, Borno and Yobe − have been under a state of emergency since May 2013.
Boko Haram has killed more than 20,000 people since 2009 and was deemed the world's deadliest terror group, surpassing Islamic State in November 2015. Nigeria has also become the world's third-most terrorised country as a result of the group's violent insurgency.