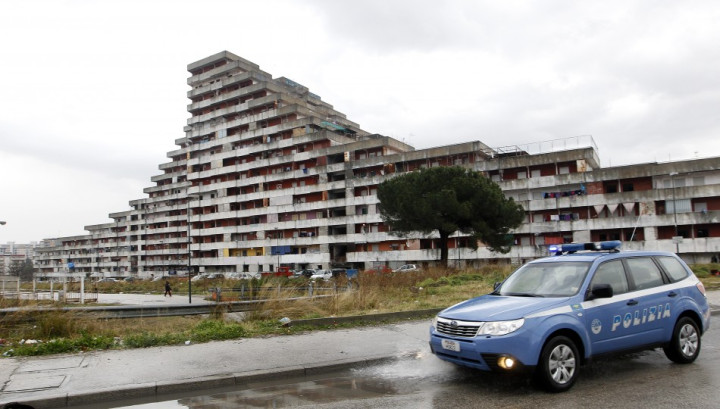 The brother of a Naples Camorra boss has been killed leaving a coffee bar on the outskirts of the city, police have confirmed.
Raffaele Abete, 42, had just finished an early morning espresso at the Zeus bar in Scampia, Naples, when at least two killers approached him from behind and shot him three times in the back of the head.
The killers reportedly used special reinforced bullets. Abete died before the ambulance arrived.
His killing is believed to be retaliation for the recent assassination of gang boss Gaetano Marino, who was shot dead in the city of Terracina on a crowded seafront packed with tourists.
Both Abate and Marino were siblings of the leaders of rival factions which are currently embroiled in a bloody gang war on the outskirts of Naples.
Abete was the brother of the detained boss Argangelo Abete, whose clan is in a violent struggle with former ally Gennaro Marino - Gaetano's brother - and his entourage.
His death is the 42nd Camorra-related killing reported in the Napoli area since the beginning of the year. The conflict is purportedly aimed at gaining control of Camorra's stronghold of Scampia, and the lucrative drug trafficking business.
According to a 2012 report by Italian business association Confesercenti, the country's criminal organizations make around €60bn of their €130bn total turnover from drug trafficking. Scampia, a neighbourhood built in the outskirts of Naples in the 1960s as part of an urban housing project, has become a major centre of drug trafficking and illegal activities.
During the years, its triangular-shaped massive building blocks named Le Vele - the sails - have become home to lots of Camorra's criminal activities, and a shelter for the clan's fugitive leaders. Just a day before Abate was executed, two Kalashinikov tommy guns, three flak jackets, a significant quantity of bullets and 20 small packages of drugs were seized by a police raid in one of the Le Vele blocks.
"In recent times we have carried out strong control actions in the area. Probably it is not enough, we will have to do more," commented Italian Interior Minister Annamaria Cancellieri.
More murder
A few hours after Abete was shot dead, another man known to the police for some previous drug-related offences, as well as for theft and fencing, was killed in the toilet of his house in Roccella Jonica, in the neighbouring region of Calabria.
The dead body of Antonio Gagliano, 64, was found lying on the bathroom floor by his Ukrainian cleaning lady. Gagliano shot dead during the night; the cleaner found him in the morning and says he was alive when she went to bed in the same house the previous night.
The woman, who is being interviewed by the police, said she did not hear any noise during the night. The reasons behind the murder are not known yet.