Canadian Prime Minister Justin Trudeau arrived in Fort McMurray on Friday (13 May) to take account of the damage done by the Alberta wildfire. Alberta officials are reportedly drawing up a plan to bring back the more than 80,000 evacuated people to their homes.
Assessing the damage in the northern Alberta city about two weeks after the wildfire ignited, the prime minister said the magnitude of the disaster hit him only after visiting the affected area. Watching images on television did not give an actual account of the horrible situation in the region, he reportedly said.
"I don't think Canadians yet understand what happened. They know there was a fire. They're beginning to hear the wonderful news that so much of the town was saved," Trudeau was quoted by The Guardian as saying to 150 firefighters and first responders soon after his aerial tour of Fort McMurray.
"But they don't yet understand that that wasn't a fluke of wind or rain or luck that happened. This was the extraordinary response by people such as yourself. The work you did to save so much of this community, to save so much of this city and its downtown core... was unbelievable," he added.
The prime minister was scheduled to visit one of the city's damaged neighborhoods to meet with Alberta premier Rachel Notley during his visit to the region. Melissa Blake, mayor of the Regional Municipality of Wood Buffalo, accompanied Trudeau on his visit to the burned neighbourhoods. Notley and some federal cabinet ministers, who are part of a special committee that will oversee the reconstruction work, also accompanied the leader on his visit.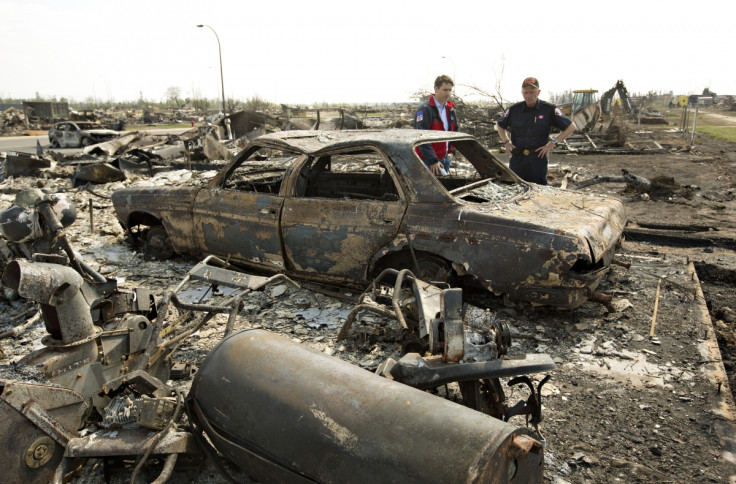 Alberta officials reportedly said about 85-90% of the city had been saved from the devastating wildfire. 2,432 structures were destroyed in the massive wildfire, 530 damaged and 25,000 saved.
Trudeau reportedly told Fort McMurray fire chief Darby Allen, who led the fight against the wildfire, that he is more interested in devising ways to limit the impact of a future wildfire of such a magnitude. Allen termed the prime minister's visit to the affected area where hundreds of emergency workers are dealing with the aftermath as a morale booster.
The fire that began on 3 May has now moved away from the city but is spread across 930 square miles and is expected to burn in forested areas for at least another few weeks, The Guardian wrote.