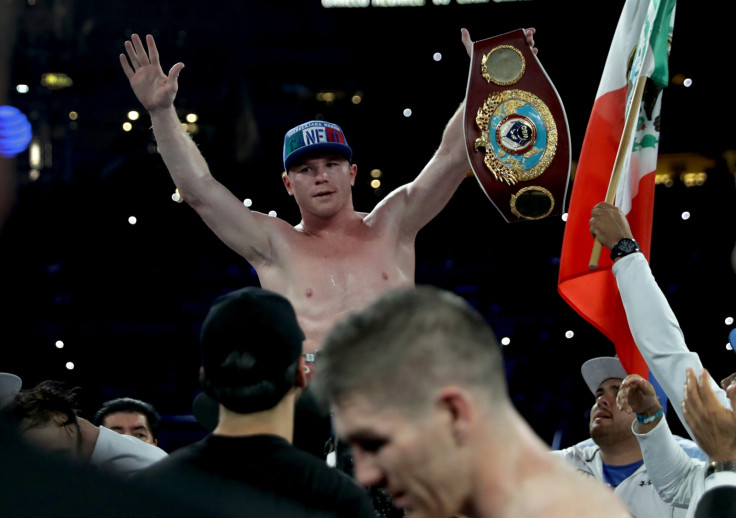 Saul "Canelo" Alvarez and Julio Cesar Chavez Jnr will both bet their multi-million dollar fight purses in a £27.5m "winner-takes-all" when they meet in an explosive middleweight showdown in May.
Canelo and Chavez Jnr, the pride of Mexican boxing, meet in Las Vegas on 6 May during the weekend of Cinco de Mayo.
The two appeared on American Spanish language network Univision to promote their bout, with Canelo taking exception to Chavez's recent claims he would knock out his countryman inside eighth rounds. The 26-year-old countered by asking his opponent to put his money where his mouth was.
The host of the show then asked both men to shake hands on their arrangement, with Canelo's promoter Oscar de la Hoya confirming on Twitter both men had agreed to bet their respective shares of the fight money.
Alvarez, who has just one defeat in the hands of Floyd Mayweather Jnr to his name in a 50-fight professional career, is reportedly set to earn £22m from May's all-Mexican showdown with Chavez to receive £5.5m, according to The Sun.
If their gentleman's agreement remains in place, one of those men will go home with £27.5m, with the other leaving empty-handed.
The fight is to be fought at a catchweight of 164.5 pounds.
Canelo has spent the last few years fighting for and defending light middleweight and middleweight titles at 154 and 160 lbs, with Chavez fighting between 168 and 172 lbs, often struggling to achieve that weight.
Chavez Jnr has insisted that will not be an issue this time around, however and is set to pay a $1m penalty for every pound he goes over.
"I will make the weight and I know I will make the weight," Chavez told RingTV. "I will be 100% on May 6. He can put in the contract for a rematch or $1m for a pound.
"One pound, $1m. I'm good for the weight. I know there is a lot of attention for this. I think this is the key to winning the fight, to take care of my body."