A British man who pleaded guilty to plotting to kill, eat and torture children in the US has been sentenced to nearly 27 years in jail.
Geoffrey Portway, 40, pleaded guilty in May to conspiracy to kidnap a child as well as possessing and distributing child pornography.
When police raided his home in Massachusetts, they discovered a makeshift dungeon which contained a child-sized homemade coffin as well as a number of disposable scalpels, butchering kits and castration tools.
Portway used the online alias Longpip to discuss with other paedophiles their plans to kidnap, rape and eat children. Portway's attorney asked for a shorter sentence, saying his client did not touch or photograph any children and that his discussions were merely fantasies he never intended to act out.
But assistant US attorney Stacy Dawson Belf said that Portway would "become tired of people" engaged in online fantasy and had told others that he was serious about his intention to kill a child.
Belf also spoke about the soundproof dungeon he had created in his home as his instruments of torture.
"He called it a dungeon. He acknowledged it as a 'boy butcher basement'," said Belf.
"Why create a child-sized coffin? That coffin was built and designed for a purpose."
Portway was described as a man who had spent "most of his adult life" accumulating a large collection of indecent images of children.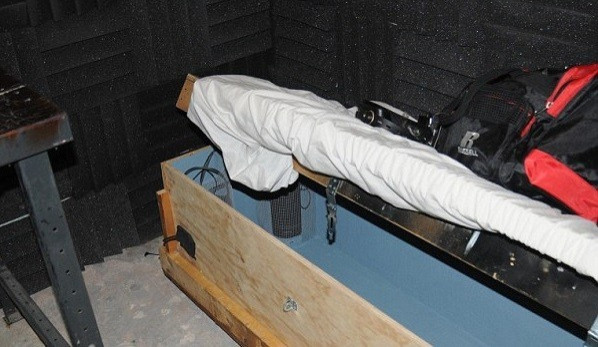 Portway, originally of Worcester, was sentenced to a total of 26 years and eight months. He is expected to be deported back to the UK after serving his sentence.
His defence lawyer, Richard Sweeney, said there was no evidence that his client harmed any child.
He said: "Geoffrey lived in a fantasy world where he did live-action role playing, did things online unrelated to child porn and cannibalism. A lot of the chats he had were, in his mind, fantasy."
Court officials wrote in the sentencing paper: "Portway has [pleaded] guilty to some of the most vile and heinous crimes known to our society, namely participating in the sexual exploitation of young children through the possession and distribution of child pornography and soliciting the kidnapping of a child for the purpose of killing and consuming that child."
Two of the people Portway conspired with were Kansas resident Michael Arnett and Ronald Brown, who was jailed for 20 years in Florida in September for kidnapping children.
Brown sent Portway a photograph of a young boy with lines drawn on him to identify the "different cuts of meat".
Court filings stated that Portway used Skype and other methods to communicate with Arnett to trade child pornography and images of dead children.
The men were arrested as part of an investigation which started in 2010.