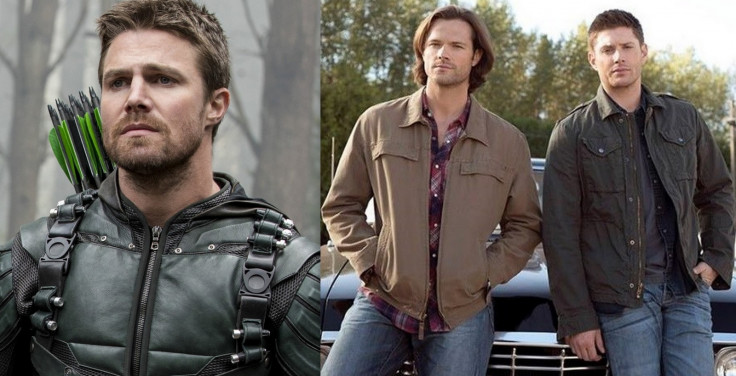 Do you want to see Oliver Queen teaming up with Sam and Dean Winchester? Actor Stephen Amell, who plays Green Arrow, opened up about the possibility of a crossover of The CW shows Supernatural and Arrow.
Speaking during a Facebook Q and A session, Amell said that he would love the opportunity to work alongside Jensen Ackles and Jared Padalecki (who play Supernatural lead characters, Dean and Sam Winchester).
The Teenage Mutant Ninja Turtles actor revealed that he is "totally up for it" and added, "I mean, that's really up to Jensen and Jared."
The 36-year-old continued, "I heard that they're getting a spin-off which is exciting but as the much, much, much, much, much, much, much more senior members of the CW family... it really would be about finding a moment in their schedule to make all the fans happy."
Revealing that it's up to the Supernatural stars to make the crossover happen, Amell noted, "I'm totally up for it. I'm not trying to pass the buck, but the buck is now sitting at their feet."
The Supernatural spin-off that Amell is talking about is Wayward Sisters, which will feature popular character Sheriff Jody Mills (played by Kim Rhodes) training a group of women, who are orphaned due to a mysterious force, into a monster-fighting squad. Wayward Sisters will receive a backdoor pilot during Supernatural season 13.
The upcoming season will also feature an animated Scooby-Doo crossover episode. Lead actors Ackles and Padalecki made the announcement at The CW's annual Upfront presentation back in May and teased a "colorful" episode that will take place in the "fully animated world of Scooby-Doo".
Supernatural season 13 is due to premiere on Thursday, 12 October at 8pm EST/PST, which is followed by the Arrow season 6 premiere at 9pm EST on The CW Network.