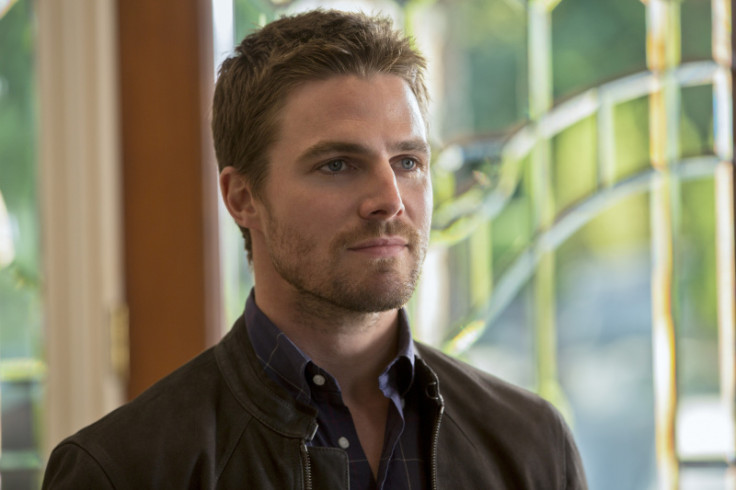 Stephen Amell is one of the few The CW actors who has been active on social media throughout the hiatus period. The Arrow actor took to Twitter on 9 July (Sunday) to reveal that he will begin filming for the 116th episode of his show on 10 July.
Sharing his excitement with the fans, Amell wrote on Twitter, "I start shooting my 116th episode of Arrow tomorrow. I AM SO EXCITED!!!!"
The 36-year-old actor shared details about Arrow season 6 at this weekend's Heroes and Villains Fan Fest in Nashville.
When asked about Oliver Queen's living arrangements in Arrow season 6, Amell told ComicBook.com, "I will break the news. Oliver has an apartment this year, and we have somebody returning to the show this year that we have not seen since season one."
The season 5 finale ended with Oliver watching helplessly with his son William as the island goes up in flames with Thea, Felicity and John Diggle and many others in it.
Teasing a flashback scene in season 6 episode 1, Amell revealed, "There are flashbacks in the first episode that take us back to the immediate aftermath of the events in the finale. Which is one of the reasons that I had to shave my beard, so I could match up with [the finale]."
The sixth season may feature flashbacks from Felicity, Diggle and others, according to Amell.
He was quoted as saying, "There are no flashbacks in the second episode. You know how occasionally over the course of five seasons, typically it's been Oliver's flashback? Sometimes there have been episodes where there's no flashbacks, and sometimes we've had flashbacks where we focus in on Diggle or Felicity or Renee.
"I think that's what will happen this year, that we will have the occasional flashback. We're not telling a linear story anymore about Oliver's time on the island. We've brought that one full circle, " the Arrow actor added.
Arrow season 6 premieres on Thursday, 12 October at 9pm EST on The CW Network.