Caroline Wozniacki advanced to the quarter finals of the Qatar Total Open with a controversial win that included a clash between her father and match officials.
Leading a tense contest after a first set tiebreak win against the in-form Mona Barthel of Germany, the former world number one was about to go 4-1 ahead in the second set when a powerful backhand from Barthel caught the edge of the right tramline and sailed past the outstretched Dane as a cry of "out" was heard from one of the spectators.
After first - and correctly - awarding the point to Barthel, chair umpire Julie Kjendlie found herself on the business end of a tirade from first Wozniacki and then her father and coach, Piotr, who weighed in from the spectators' gallery to the astonishment of Barthel and the rest of the crowd.
Inexplicably, Kjendlie ordered the point to be replayed as second WTA official intervened to ease tensions and restore order after the bizarre incident.
A clearly shaken Barthel won the replayed point, but couldn't find her footing from that point onward as Wozniacki gutted out a 7-6(6) 6-3 win.
"I mean, it wasn't great tennis out there today. The wind was a huge factor," Wozniacki said. "The ball goes anywhere - it was just about getting the ball in play. There was no Hawk-Eye out there, so there were quite a few very doubtful calls."
The incident marred an otherwise uneventful - if windy and cold - day at the WTA Premier event in Doha as the top seeds advanced with relative ease in the $2.369m tournament.
Agnieszka Radwanska needed a tight tie-break in the second set to see of Ana Ivanovic and set up a quarter final clash with Wozniacki Thursday on centre court.
The fourth-seeded Pole breezed the first set 6-1 before Ivanovic was able to gather herself for a serious challenge in the second - one which was made more difficult by her 21 unforced errors and 55 percent first serve.
"Ana really started to play much better in the second set - she wasn't making any easy mistakes in the second set," said Radwanska. "I really needed to just play my game. She wasn't giving me any free points and it was really close. So I'm very, very happy I could close this and win in two sets, because you never know what's going to happen if you end up going to a third set."
Number one seed Victoria Azarenka blanked American Christina McHale 6-0, 6-0 - her sixth career "double bagel" - to advance to a quarter-final match up with Italy's Sara Errani, who needed three sets to see of Daniela Hantuchova.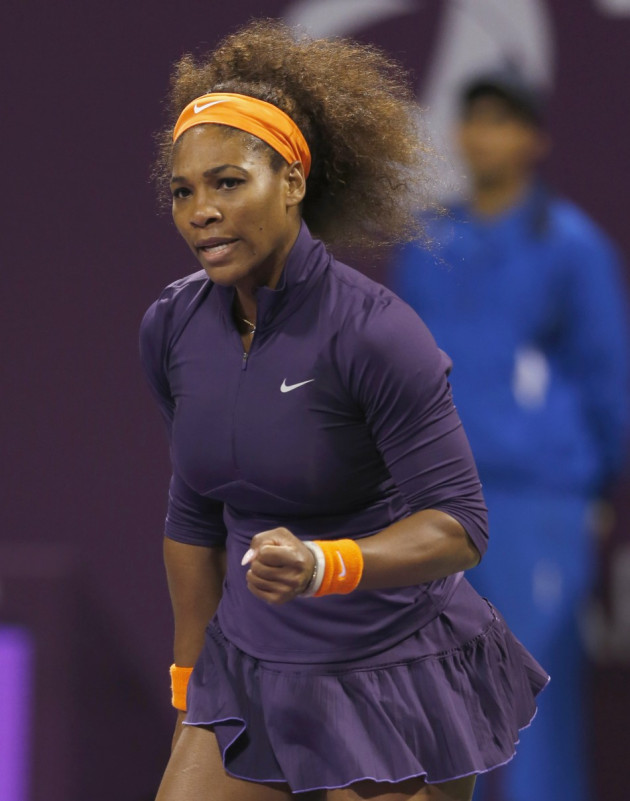 Serena Williams' march to regain the world number one spot after more than two years continued without great difficult after the 15-time Grand Slam champion blasted Urszula Radwanska in straight sets.
"Every time I play her she improves," Williams said. "I didn't make a lot of errors in the first set, and then I started making some errors that were just ridiculous. She started playing a lot better.
"It was very windy, but I felt good out there. I came through."
The 31-year old will face 2011 Wimbledon champion and seventh seed Petra Kvitova tomorrow in a match that, if she wins, will see her become the oldest woman in WTA history to nab the top ranking spot.
Maria Sharapova still has an outside shot at regaining world number one status is Williams falls and she's able to get past Australia's Sam Stosur in the semi-finals and go on to win the tournament Saturday. She took out Klara Zakopalova in a surprisingly easy straight sets win earlier Thursday.
"The conditions are certainly tough," said Sharapova said. "I think the windiest match I've played in my career was here many years ago, five years ago, I think it was the first round. It was pretty brutal."