West Ham United manager Sam Allardyce is ready to renew his interest in Blackburn Rovers star Jordan Rhodes after missing out on the striker last summer.
Allardyce was keen to sign Rhodes when he was at Huddersfield Town but West Ham were unable to match the £8million that was eventually paid by Blackburn.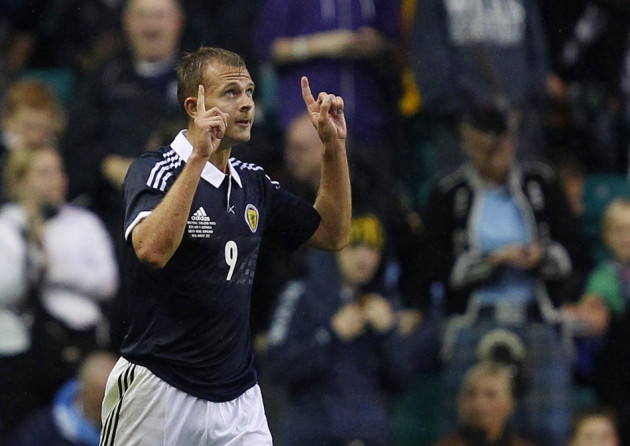 Rhodes has continued to excel in the Championship this season, and despite the on-going problems at Blackburn, has managed to score 20 league goals.
Despite only being at the club since the summer of 2012, Rhodes has already played under four different managers with Steve Kean, Henning Berg and Michael Appleton all leaving the club this season.
Under caretaker manager Gary Bowyer, Rhodes's impressive form has continued as he opened the scoring at the weekend to help Blackburn secure a vital 2-0 win over Derby that kept Rovers just one point clear of the relegation zone.
With Allardyce keen to invest in his squad, the Mirror reports that West Ham are prepared to make an offer in the summer, but they will not match the £8million that Blackburn paid last August.
The Championship outfit face the very real possibility of dropping down into League One and would therefore not be in a position to demand such a high figure for the Scotland international.
The 23-year-old would likely be viewed as a replacement for Andy Carroll as the Hammers would not be able to afford a deal for both players.
Allardyce admitted that he has not been surprised to see Carroll make an impact since returning to full fitness but did warn that the club will wait till the end of the season to make a decision on his future.
"We'll make a decision on all the loan players at the end of the season," Allardyce told the Telegraph. "I always said that once Andy got match-fit he'd put the goals in the back of the net and show that he is a good goalscorer as well as a good player, and his goals just sum it up.
"When we needed him he was there, he's produced and that's what you want, someone who can turn a game for you. And that's what he's done recently and made it very comfortable for us in terms of points. He can miss some chances but it's not worrying him any more."
While Carroll has started to show his quality in recent games, his future is still unclear as Liverpool may decide to retain his services, while West Ham would be forced to pay around £17million if they wanted him on a permanent deal.
Rhodes would certainly be a much cheaper option but it seems any deal for the striker would only take place once the future of Carroll has been decided.