For most people, the Charlie Hebdo massacre catalysed a movement to join together in solidarity against terror attacks, to show support for the victims and the free speech that they died championing, or to simply pause in quiet reflection of the tragic events.
For others, it was an opportunity for commercial gain.
Less than 24 hours after the massacre at the magazine's office, a copyright application was filed at the Benelux Office for Intellectual Property (BOIP) for "Je Suis Charlie" - the phrase popularised by millions online and in the streets in the wake of the attacks.
The trademark was filed by Yanick Uytterhaegen, a Belgian citizen who is seeking to cover clothing, stationary and cleaning products with the copyright. The artistic director who created the logo has said via Twitter that he is "horrified" by the trademark application.
Charlie Hebdo on eBay
Merchandise already available online with the "Je Suis Charlie" slogan includes T-shirts, key rings, stickers, pens and even teddy bears, however some merchants have claimed that the cottage industry is not just about cashing in on the tragedy.
"Our goal was never to profit from the sale of these T-shirts but to help raise awareness to help support the French population," said Danica Harcourt from Imperfect Circle Apparel. "We have received a couple of negative comments as well from a few French citizens who believe the American people are 'a-holes' trying to profit from such tragedy, which was never our intent."
In recent years merchants and opportunistic individuals have been quick to capitalise on similar tragedies, such as the bombing of the Boston Marathon in 2013. Official jackets, medals and other personal items of participants were put up for sale online within days of the terrorist attack. At the time, eBay was quick to take most of the listings down, citing a policy about offensive material.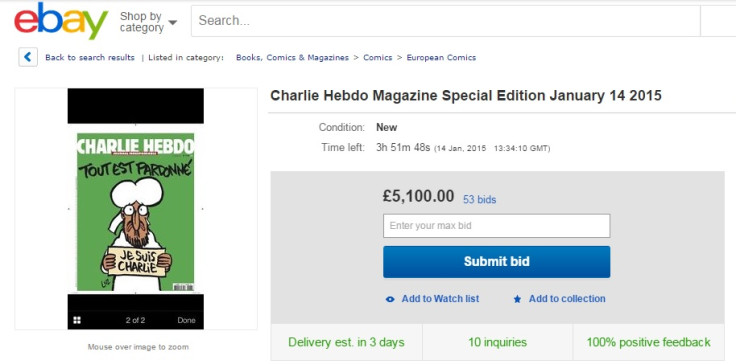 Today (14 January), copies of the latest issue of Charlie Hebdo appeared on eBay, with some copies fetching bids in excess of £5,000. It seems that eBay is yet to take these down, with many auctions reaching their conclusion. IBTimes UK has requested a comment from eBay but the online auction site is yet to respond.
These auctions contrast with the philanthropic campaigns that have sprung up aiming to get copies of the satirical magazine to people around the world unable to get a copy for themselves. A recent thread on Reddit saw French residents volunteer to buy copies and send them to other Redditors who don't have access to an outlet selling Charlie Hebdo.
Hijacking campaigns
Unfortunately, even good-intentioned campaigns are not safe from those seeking to make a quick buck. Shortly after a campaign set up by the online hacktivist collective Anonymous under the banner "Op Charlie Hebdo", several journalists received an email purporting to be from Anonymous alerting them to a new website that had sprung up - opcharliehebdo.com.
The email read: "Do you know who owns this site or what's going to happen when the timer hits zero? People are saying that its from hackers from Anonymous. Can you please see what the countdown is? There is a lot of people panicked on Reddit. Thanks."
Those responsible for the anonymous Twitter account @OpCharlieHebdo were quick to deny any affiliation with the site, tweeting: "This is a fake, and maybe a scam. Avoid it!"
The amorphous nature of Anonymous didn't exclude the possibility that another faction had set up the site, but various people affiliated with Anonymous were unable to verify that it was the work of the collective.
When the countdown ended at 8am GMT on Sunday morning, the website began directing visitors to Rantic.com, a marketing company with a history of hijacking campaigns in this way. It turned out that the email also originated from the firm.
Last year the same company claimed responsibility for a website that purported to countdown to the release of naked photographs of Emma Watson. The point of the stunts appears to be nothing more than brand building - promoting the company's services that are limited to selling fake social media followers and web traffic.
When asked for comment about taking advantage of tragedies like Charlie Hebdo for commercial gain, the firm claimed that it carried out a positive campaign.
"It's very immoral," a spokesperson for Rantic told IBTimes UK via email. "With this attack in Paris, the elites perhaps banked really hard. Like they always do with every war or major event. Here at Rantic, we did a positive campaign and helped boost the sales of Charlie Hebdo's magazine subscription."
It seems Rantic may have missed the point entirely.