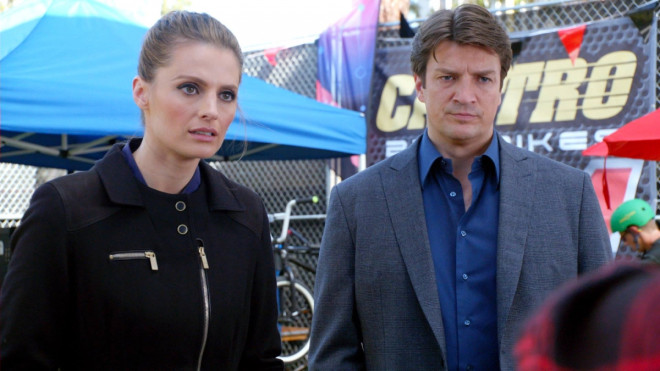 Castle Season 6 is moving fast towards its finale titled For Better or Worse and fans are waiting to see Detective Kate Beckett marry Richard Castle.
Although Beckett (Stana Katic) and Castle (Nathan Fillion) are engaged, something unexpected will happen, ruining the wedding.
The official description of the finale that will air on 12 May reads: "Castle and Beckett's long-awaited wedding is almost here, but when a shocking surprise threatens to ruin the big day, they are sent on a wild mission filled with masked men, angry bikers and a charming ne'er-do-well from Beckett's past.
"Weddings can either go off without a hitch or they can be disastrous," creator Andrew W. Marlowe told TVGuide. "[But] people can end up together after the disaster. We still have a few tricks up our sleeve."
Castle star Molly Quinn, who portrays Alexis, daughter of Castle on the ABC show, revealed that the process would be "prolonged."
"I think they're definitely gonna prolong it," she told E! News. "I cannot say, but my gut feeling would be that it is going to be prolonged, even maybe broken at some point, and brought back together. There are a lot of things that could happen. I mean who knows, maybe Alexis decides to sabotage the whole thing."
Katic also hinted that the season finale won't be as expected.
"I think these two characters have strong opinions, and that will create a lot of conflict and opportunity for romance and interest, hopefully," she said.
"It would be a new version of the show. I think that they did a nice job of kind of shifting it into the romance last year, and now finally into the engagement, and I'm already filming episode seven or eight, and it seems like they're doing a great job of kind of creating that shift," she added.