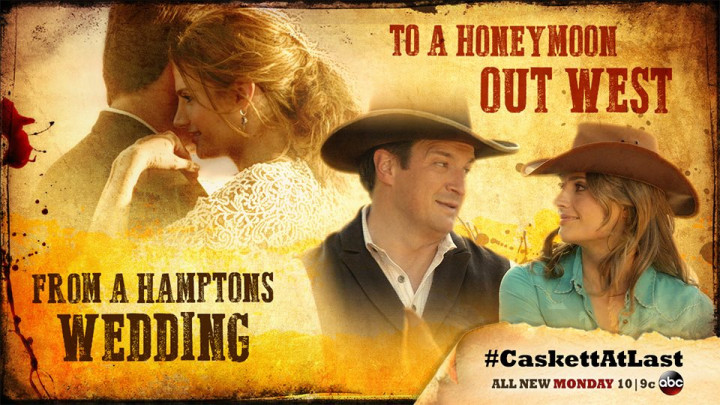 Castle Season 7 finally had that magical moment when Rick Castle (Nathan Fillion) and Kate Beckett (Stana Katic) exchanged wedding vows and became man and wife.
After their hush-hush wedding, fans are eagerly waiting to see their Wild West honeymoon which will be aired in tonight's episode titled 'Once Upon A Time In The West'.
But before you start imagining Caskett's sensuous chemistry during their honeymoon, the show creators have clarified that the mystery novelist and his new bride are not on an actual pleasure trip.
"Rick and Beckett go undercover on the ranch to investigate a murder by poisoning," says a TV Fanatic spoiler report.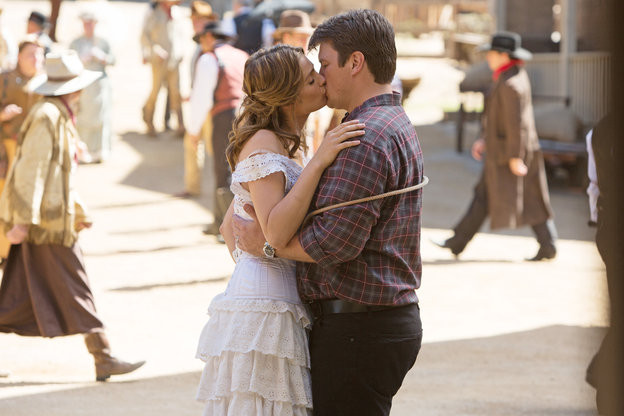 Meanwhile, showrunner David Amann said that the episode will be a joy ride and viewers can expect a lot of fun.
"It's an incredibly fun and charming episode and I think a good follow-up to episode six in that regard," Amann told Entertainment Weekly.
A promo video of the upcoming episode shows both Rick and his detective wife unbuttoning their shirts, but their moment of passion is interrupted by an uninvited guest, a snake.
The official synopsis of episode 7 'Once Upon A Time In The West' reads: "When Castle and Beckett learn that a murder victim may have been poisoned at an Old West-style resort, they visit the resort posing as newlyweds to uncover the truth."
Castle, Season 7 episode 7 airs tonight (17 November) on ABC.
Click here to watch the episode live stream online for free on ABC's official website.
Here are the wedding vows of Caskett:
"From the moment that I met you, my life became extraordinary. You taught me

to be my best self, to look forward to tomorrow's adventures. And when I was vulnerable, you were strong. I love you, Richard Castle, and I want to live my life in the warmth of your smile and the strength of your embrace. I promise you I will love you. I will be your friend and your partner, in crime and in life, always."

"From the moment we met, my life became extraordinary. You taught me

more about myself than I knew there was to learn. You're the joy in my heart, you're the last person I want to see when I close my eyes. I love you, Katherine Beckett, and the mystery of you is one I want to spend the rest of my life exploring. I promise to love you, to be your friend and your partner in crime, and life, 'til death do us part — and for the time of our lives."