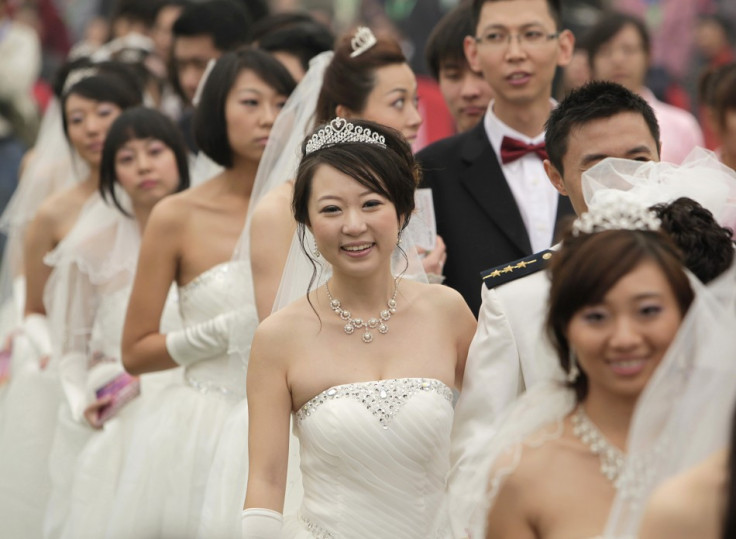 Chinese authorities have asked prospective couples to show respect and seriousness towards marriage and dress properly when they come to register their union. The new rule comes in the wake of rising divorce rates in the country and will be effective from 1 July.
According to the Civil Affairs Bureau's new rule, couples won't get their wedding licence if they come in informal clothing or dressed in shorts and T-shirts. It also states that couples would not be banned from getting married, but they would have to go through "special counselling" sessions.
It is believed that formal clothing will "strengthen the sense of ritual and authority" for newly married couples as they apply for their marriage certificates.
"It is not unusual to see couples registering in shorts and slippers. It shows their carelessness and disrespect for marriage. From one glance you can see that marriage registration is being treated as a casual affair and this is prone to many problems," Han Mingxi, the bureau's marriage registration director, told Beijing Daily, as reported by BBC.
China's divorce rate has been growing steadily for more than a decade. According to a report by the Ministry of Civil Affairs published in 2013, around 3.6 million Chinese couples got divorced in 2014, with Beijing having the highest number of divorces.
The director added that his department is currently analysing a large number of divorce cases. He has also asked specialists to "propose methods and ways to promote marriage and family happiness".
The new rule has evoked a mixed response from the Chinese public. "Marriage is not child's play, it should be dignified," one post on the Sina Weibo micro blogging site said. While another one said applying for a licence shouldn't have to be a big issue, "What if a young couple wants a low-key event?" and believes that applying for a licence is "simply a boring and tedious process".