Marnie Simpson has created quite the impression on Celebrity Big Brother since it began on Thursday (28 July). Along with wild behaviour and accusations of bullying, the Geordie Shore star has struck up a romance with fellow reality television personality, Lewis Bloor.
The raven-haired party girl shared her first kiss with TOWIE hunk Bloor after a Sunday roast, in a clip shared by Channel 5. While X Factor star Katie Waissel plays the third wheel by joining the pair, Lewis asks Marnie: "Do you want to do a wish bone?"
Since Lewis snaps the larger half of the wish bone, it's his wish for the taking, but he promises his new love interest: "It's a good one, don't worry!" They later sneak into the CBB storeroom and enjoy their first kiss, emerging a little while later red-faced and flustered.
The footage is thought to air on tonight's (1 August) episode and will no doubt ruffle a few feathers in the house. It may be a positive turn for the Geordie Shore star as she has faced a backlash for "bullying" Loose Women panellist Saira Khan.
Simpson, the ex-fiancée of TOWIE star Ricky Rayment, was embroiled in a social media storm after playing Truth or Dare when she flashed her breasts at Khan. The pair had recently clashed in the house, but Marnie was given the task by other housemates of apologising to the TV star and claiming she had better breasts than her, to viewers' dismay.
Marnie told her: "I feel like I just need to say sorry to you. I just want to ask you a very serious question. Do you think that we had the big confrontation because I've got better boobs than you?"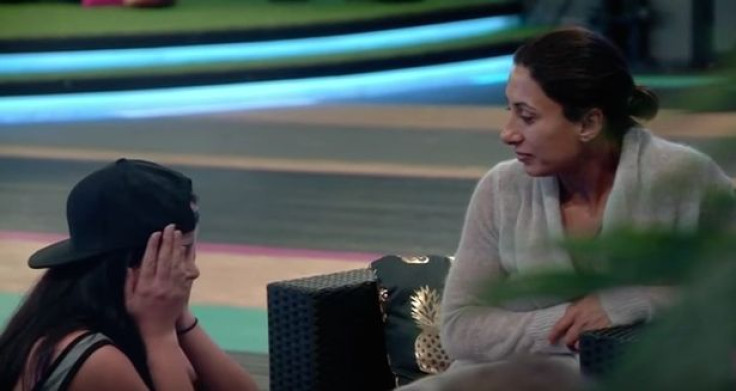 After she pulled down her top and revealed her breasts to a visibly uncomfortable Khan, Simpson was branded a "bully" by viewers. CBB housemate James Whale deemed her behaviour "unnecessary" and it looks as though the public agreed.
One Twitter user said: "Cannot believe the disgusting carry on in #CBB Marnie should be ashamed of herself , complete bully! Feeling for @IamSairaKhan." Another said: "Tonight's #CBB reminded me of a school bully. Absolute filth what that Marnie did to @IamSairaKhan and the silly little boys who are they".
Other viewers slammed the use of the word 'bully', including Marnie's Geordie Shore cast mate, Charlotte Crosby. She tweeted after the show: "I honestly think that @MarnieGShore was just caught up in the game and a little bit drunk. She's defo not a bully," before adding, "Tomorrows ep I'm more then certain we will see her apologise when she realises".
See the Twitter reaction below.