Leslie Jones, Chelsea Handler and Seth MacFarlane are among the celebrities to slam Donald Trump over his comments about Rosie O'Donnell during the US presidential debate. While going head-to-head with democratic candidate Hillary Clinton, Trump took aim at the comedian in the latest incident in their ongoing feud.
Towards the end of the debate, which was broadcast live on 26 September, Trump, 70, described his unlikely nemesis as "vicious". The republican hopeful told the audience: "Somebody who's been very vicious to me. Rosie O'Donnell, I said very tough things to her, and I think everybody would agree that she deserves it, and nobody feels sorry for her."
Trump's comments have outraged the public with many branding the businessman "sexist" while celebrities have rushed in to defend O'Donnell.
Family Guy creator Seth MacFarlane tweeted: "Wait... did Trump whine about Rosie O'Donnell there at the end? Does he know where he is? Am I in the ninth circle of Hell?" while Ghostbusters star Leslie Jones exclaimed: "Omg damn he just slammed Rosie wtf?!"
Netflix talk show host Chelsea Handler said: "Nobody puts Rosie in the corner," while Girls creator Lena Dunham warned: "DO NOT EFFING COME FOR ROSIE." Comedian and talk show host Arsenio Hall weighed in: "We can't elect a man who is obsessed with hate for Rosie O'Donnell. You never hear Putin bring up Yakov Smirnoff in a political debate," and actress Mia Farrow simply stated: "Love you Ro."
Former The View host Sherri Shepherd tweeted: "You just said everybody agrees that @Rosie is Miss Piggy but you're mad at Hillary bc she's not nice to you... I need a pina colada," while singer Melissa Etheridge added: "Omg....I wish #Trump would get over @Rosie I don't think our next president should have such a weird obsession with my friend."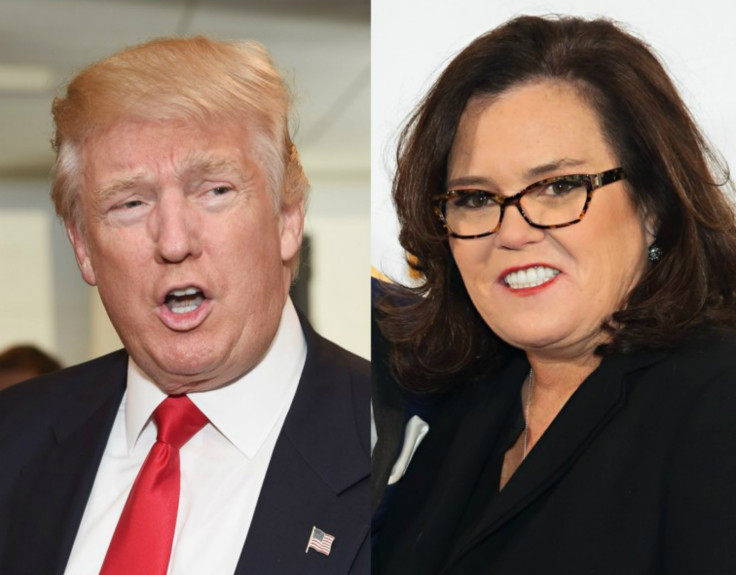 O'Donnell, 54, has remained defiant against Trump's latest jabs, boldly telling her Twitter followers: "HE WILL NEVER BE PRESIDENT."
In 2006, Trump controversially described O'Donnell as a "fat pig" during an interview with Fox News. Discussing how O'Donnell's former partner Kelli Carpenter might have introduced the comedian to her parents, Trump said: "Can you imagine the parents of Kelli... when she said, 'Mum, Dad, I just fell in love with a big, fat pig named Rosie'? Can you imagine the expression on their face?"