Celebrities join Black Lives Matter campaign after US police shootings of Alton Sterling and Philando Castile
Beyonce expressed outrage over the killing of two black men by US police officers.
Following the traumatic death of Alton Sterling and Philando Castile, celebrities all over the world have joined the Black Lives Matter protest by sharing their thoughts on social media. Kim Kardashian, Beyonce, Kevin Hart, The Game, and many more have publicised their thoughts regarding the police brutality towards the victims.
Superstar Beyonce was one of a number of celebrities expressing outrage over the shootings by police officers of two black men. The singer went to the lengths of pausing her concert in Glasgow Thursday night, 7 July, to display the names of black people killed in police shooting in America, hours after posting an open letter about the tragic recent events on her website.
The singer posted the names on her website, which shows her strong support of the Black Lives Matter campaign. The concert, part of her Formation world tour, ended before news came in of the killing of five police officers by snipers in Dallas
Philando Castile was shot dead in Saint Paul, Minnesota Wednesday after being pulled over with his girlfriend and her daughter for a broken tail light.
On Tuesday Alton Sterling, 37, was killed in a conflict with two officers in Baton Rouge, Louisiana after police received a complaint about a man threatening others with a gun while selling CDs.
In the letter Beyonce wrote: "We are sick and tired of the killings of young men and women in our communities. It is up to us to take a stand and demand that they stop killing us. We don't need sympathy. We need everyone to respect our lives. We're going to stand up as a community and fight against anyone who believes that murder or any violent action by those who are sworn to protect us should consistently go unpunished."
While closing the letter, the Grammy award winning singer called on readers to contact their politicians and legislators to voice their concerns.
Reality star Kim Kardashian also wrote a letter on her website, beginning her statement with, "This week we watched Alton Sterling and Philando Castile, two innocent black men, get senselessly murdered by police officers."
The 35-year-old wrote that she wanted her children to grow up in a world knowing "that their lives matter".
"I do not ever want to have to teach my son to be scared of the police," she wrote of her newborn baby Saint. "'Or tell him that he has to watch his back because the people we are told to trust – the people who "protect and serve" – may not be protecting and serving him because of the colour of his skin."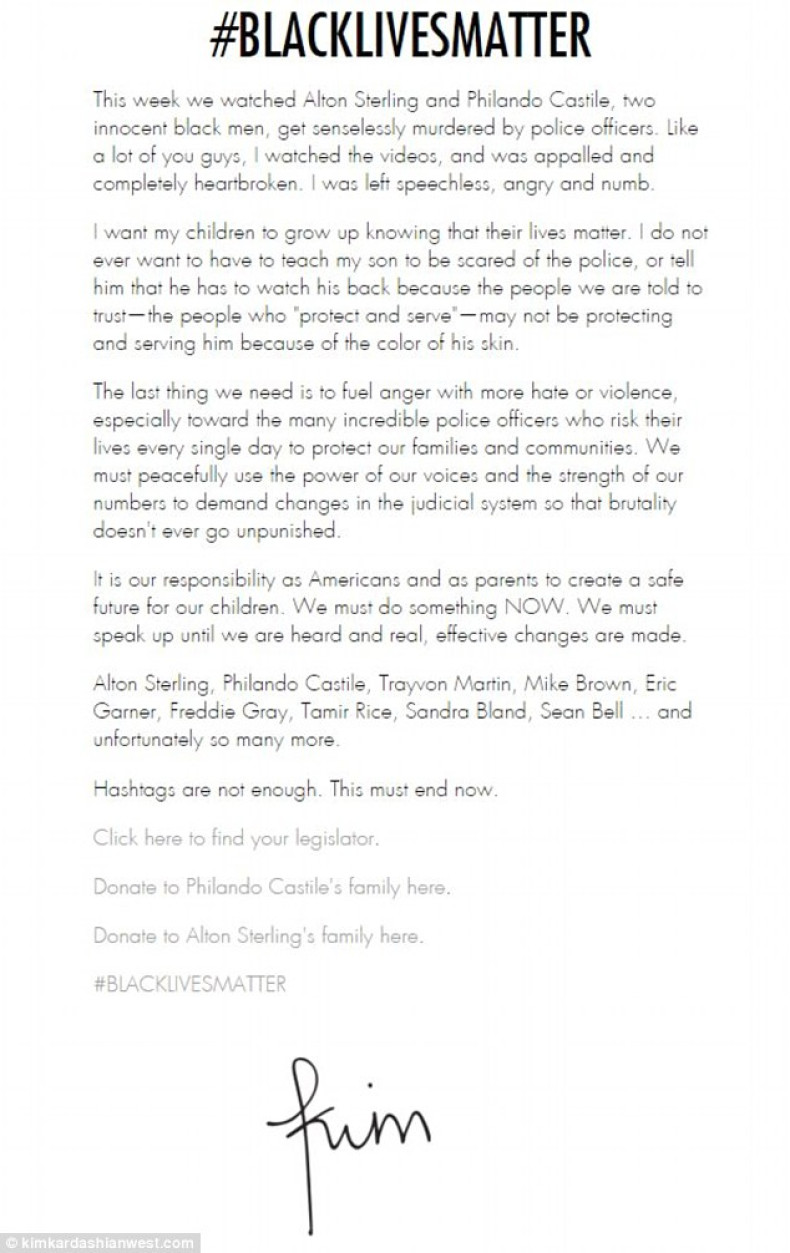 Rapper The Game took to his Instagram page to urge fans to join him in a bid to "reintroduce the Los Angeles Police Department" to the community it serves. The rapper, real name Jayceon Taylor, insisted the gathering would be peaceful and stated no weapons or violence was allowed.
While the protest took place, Snoop Dogg also documented the protest on his Instagram page. At the conclusion of the protest, the rappers joined the police officials in Los Angeles Mayor Eric Garcetti for a press conference.
Chris Brown, who doesn't usually post anything political on his social media, also posted a video, pleading to other celebrities to join the campaign. He said, "how about we speak out right now, can we help, can our voices actually mean something".
Comedian/Actor Kevin Hart was another celebrity who pleaded in his video for people to make a stand.
Over the past three years, a powerful hashtag and movement has grown to protest against police killings of black people in the US. According to BBC, more than 1,000 people were killed in police operations in the US in 2015, nearly a third of them black. Black Lives Matter was founded by three women who popularised the slogan during protests over the 2012 killing of Trayvon Martin, an African-American teen who was shot by George Zimmerman, a neighbourhood watch volunteer in Sanford, Florida.
"Black Lives Matter" has become a chant for people protesting police violence against African-Americans.
The protests have now spread outside the US, as large crowds of people met at the Southbank on Friday evening, 8 July, before they marched through busy streets in central London in the first of a series of UK demonstrations. Friday's protest is the first of three planned in the capital, with another scheduled in Oxford Circus on Sunday before a further protest in Southwark Park next month.