Winston McKenzie is the first celebrity to be evicted from the Celebrity Big Brother house. He was nominated for eviction alongside Nancy Dell'Olio and Strictly Come Dancing star Kristina Rihanoff, after fellow housemates Jeremy McConnell, Scotty T and Stephanie Davis were asked to make one 'killer' nomination each.
While the public saved Kristina, in a first eviction twist, instead of the public vote, it fell upon the housemates to decide whether Winston or Nancy would remain in the house. Each of the housemates were called upon to make their nominations and explain their reasons for doing so. And unsurprisingly, Winston was nominated by 13 out of 14 housemates, and no one held back in telling the politician what they thought of his opinions.
"Your views are totally different to mine and anyone should be able to adopt a child," said David Gest. US reality TV star Jonathon Cheban said: "I think if Winston stays this will keep brewing ... I think we knew Winston would be going".
"I do want you to leave because of the homophobic views. I have a lot of gay friends and fans and I can't accept that kind of hate," said Tiffany.
Describing himself as gay man who had fought for LGBT rights Christopher also nominated Winston. Stage star Darren Day reiterated the group's strong sentiments saying: "My brother's gay and in a very happy long term relationship and I think the comment Winston made is completely outrageous."
TOWIE star Gemma Collins didn't hold back as she responded saying: "Basically Winston I thought your comment was absolutely disgusting and I couldn't bear to see Johnathon so upset in the house because of it." Jonathon Partridge summed up the public sentiment when he said simply: "That disgusted me today."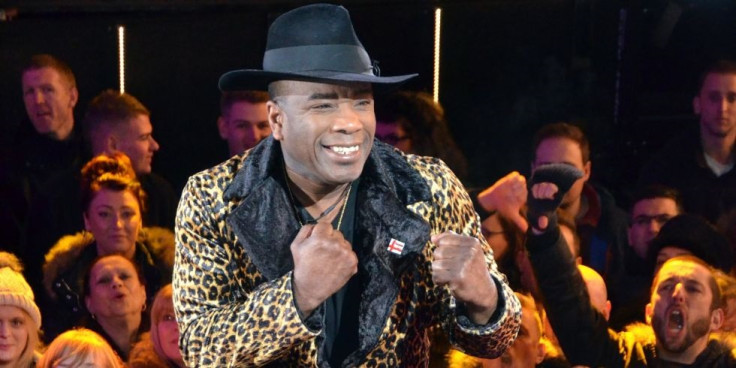 Stephanie too, was vocal in condemning the politician for his comments. " I'm going to evict Winston because my best friends are gay and are trying for a baby with their partner," she said.
With only Jeremy voting to save him, Winston was unceremoniously ejected from the Celebrity Big Brother house to the sound of boos and jeers from the crowd. In his post-eviction interview with host Emma Willis he said of his time in the house: "It was a scintillating experience Emma. It was work. I knew I was at work. As a boxer I thought I knew everything, but when I heard other people's way of life, what they've been through, I realized I don't know. There are people out there who give it their all and are still trying. Angie Bowie, David Gest and many of us. It was such a revelation to me."
When asked how he felt about being met by boos from the crowd he said: "The crowd reaction, hostile though it is, I'm glad I was there, but it was nothing compared to boxing. Had I not been involved in sport the way I was, I would never have been able to cope with this."
Questioned by Emma as to his homophobic comments on the show, he attempted to defend himself saying: "People are entitled to their opinions. I'm being portrayed as a people hater. I have heard it. That gay people have fought long and hard for their rights ... We live in a democratic society. We have the opportunity to express our opinions."
Asked by Emma as to whether he still maintains his views regarding the rights of homosexuals to adopt children he replied: "I am a Christian. I expressed my feelings at the time. It doesn't mean to say that I am likely to tell someone who wants to adopt a child in a loving family they can't. I don't make the rules.
"My comment was made in the heat of the moment, the press was on my back and they got what they were looking for," he added. "When you work it out, it was not something that was done from the heart. They portrayed me as spiteful." Pressed again by the host who asked directly if he believed homosexuals should not be allowed to adopt, he replied: "I agree with my heartfelt feelings. I'm not going to change my mind or my thoughts. Would you like me to sit here and lie? You don't need to go over that again."
He went on: "The work I do for homeless children and the destitute. I can match any MP and any government minister..." "Then you should know how gay people feel for their struggle," interjected Emma poignantly.
Expressing the overriding sentiment of the general public she added: "Its such a shame that people still have these views and think its ok."
Winston didn't help himself when he sat before Celebrity Big Brother's Bit On the Side host, the recently married Rylan Clark-Neal, when he shockingly declared: " I think you are a great host .. regardless of how you live your life."
When Rylan pushed him to answer the question of whether he would as a politican change the law in accordance with his views, Winston largely evaded the question. Rylan suitably shut him down saying: "I am grateful that I can live in this country as a gay man. I'm recently married and I cant wait till I can adopt a child."
The former UKIP politician has been at the centre of controversy since he made his first entrance on the reality TV show, after he expressed allegedly homophobic opinions that left viewers outraged. In his launch night entry video, Winston said he would "cope with a homosexual in the house" by "standing against a brick wall all the time". TV watchdog Ofcom received 165 complaints about comments.
The English Democrat was slammed for the "grotesque" and "homophobic" remark and was booed by the crowd as he entered the house joining 15 other contestants for the reality TV show, where they will be filmed 24/7 for the next five weeks.
The 62-year-old garnered a similar response from his fellow housemates when he made his offensive views regarding homosexuality known in a team game in which the celebrities attempted to match a series of random facts to their fellow housemates.
When the question of which of the housemates had allegedly described adoption by gay couples a form of 'child abuse' during a press interview, Winston attempted to explain his remarks to the rest of the house, saying: "How can I? I'm a Christian. How can I go against my beliefs? No I'm not homophobic, no I don't hate gays, people live their lives according to how they want to live."
While actor Jonathon Partridge, who played Christian Clark on EastEnders, covered his eyes in horror as his listened to Winston's comments, the other housemates were vocal in their objections to his remarks.
Though she was restrained during the nominations, Angie Bowie could not contain her disgust. In an expletive-laden rant she told David Gest: "I didn't do 45 years fighting for gay rights for f***ing nothing. I'm not tolerating that c**p. If he comes within 10 feet of me it's over. My f***ing eyes nearly popped out of my head. I knew it was him, it's not like anyone else would have said such a stupid thing. And if he didn't say it, he didn't prove to me that he didn't," she added.
The ex-wife of David Bowie called herself an 'absolute prat' for having trusted the star. "What was he all the time? A little mincing, f***ing, stereotypical straight a***hole hiding behind that it's a Christian belief. Suck my big one. And when you're done with that do it again, on your f***ing knees. Piece of c***."
Earlier, the candidate for Mayor of London, received a formal warning for his allegedly 'lascivious' behaviour towards Nancy Dell'Olio. The Italian lawyer had complained to Big Brother that she felt uncomfortable sleeping in the bed next to star, after she claimed he was ogling at her. CBB bosses reiterated the rules to Winston regarding 'appropriate behaviour' in the house. The complaint was met with disbelief by Winston who attempted to clear the air with Nancy and later dismissed his behaviour as that of a "red-blooded male."
While Big Brother has come under fire by some viewers on social media for allowing such contentious views to be expressed "for the sake of viewing figures," as he now leaves the house, Winston will face the wrath of the British public and the media who have been collectively and understandably, outraged by his comments and undoubtedly will be less forgiving than Nancy.
Hats off to @EmmaWillis for her handling of Winston. Totally professional bit taking no crap. Proud of her #cbb

—  David  (@WhippetOut) January 8, 2016
Hope @Rylan destroys Winston on BBOTS no need for Winston's behaviour in the 21st century

— Dexter_koh (@dexter_koh) January 8, 2016
Disgraceful comment from Winston. Totally unacceptable in todays world. But so poor from Big Brother for pulling a stunt like that. Why!??

— Jack Smith (@JackSmith_21) January 8, 2016
They knew Winston's mad views b4 he went in so why select him & then use inflammatory comments from his past? He's been hung out 2 dry #CBB

— Victor Ebuwa (@VicEbuwaSlick) January 8, 2016
#Winston Never known someone to dig them selves into a hole this quick!!! Is he the most hated housemate ever ??? #CBB2016

— LoudKidz (@LoudKidzMusic) January 8, 2016
Shame on #Winston and shame on #Channel5 for broadcasting this. He should not be given air time #CBB

— Rosie Nixon (@Rosie_Nixon) January 8, 2016