Central African Republic Conflict: Christian Priest Bernard Kinvi Protects Muslims from Anti-Balaka Militia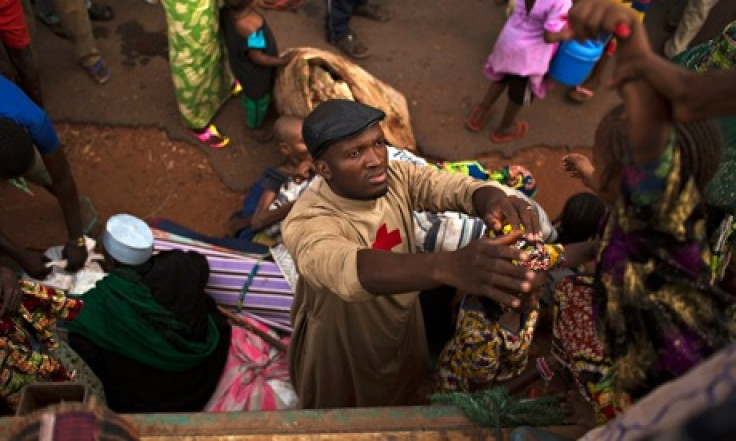 A Christian priest is helping hundreds of Central African Republic's Muslims escape death as the country's violent civil war keeps claiming thousands of lives.
Father Bernard Kinvi, who has won an award by rights group Human Rights Watch for his humanitarian work in the war-torn nation, has opened his mission in Bossemptele, western CAR, to the refugees who are fleeing their homes due to increasing violence by militants.
His actions have earned the attention of Christian militiamen anti-Balaka, or anti-machete, who have threatened to kill him, Father Kinvi said in an interview with the Guardian.
CAR Conflict Factbox
The conflict has pitted Muslim Seleka forces against Christian anti-Balaka militias following the overthrow of former president Francois Bozize, a Christian, by Michel Djotodia, a Muslim in 2013.
The two warring factions have engaged in violence that has resulted in thousands of deaths and hundreds of thousands of displaced people.
The brutal ethnic cleansing has been strongly condemned by several NGOs.
Amnesty International has accused peacekeepers of failing to prevent the conflict.
He said militiamen told him: "We have our jobs, father, and you have yours: we kill them and you bury them."
However, he keeps offering displaced people shelter in the mission's church, hospital and school and help them flee the country to the neighbouring Cameroon.
"It wasn't a decision; it was just something that happened," he said. "As a priest, I cannot support the killing of a man. We're all human: religion doesn't come into it. If anti-balaka come in wounded, I treat them. I don't care who you are or what you do with your life or what your religion is, you are a human being and I will treat you.
"There was one day when I was scared about going out at night to evacuate the refugees," he continued. "I got to the roadside where there were 200 people. I saw groups of people around me who helped get them into the cars. They wore talismans round their necks, which meant they were anti-balaka, but they helped that day."
"When I became a priest, I undertook to serve the sick even if it meant putting my life in danger," he said.
"I said that but I didn't really know what it meant. But when the war came, I understood what it means to risk your life. Being a priest is about more than giving blessings; it's about standing with those who have lost everything."
Kinvi's mission has also begun keeping account of incidents, so that militiamen will one day be prosecuted for the crimes they are committing.
"I thirst for peace in CAR," he said. "I want to see people able to move around safely like in any other country. I want to see my Muslim brothers, who have lost everything, return to their homes. It's their country and they need to be back home," Kivi concluded.
© Copyright IBTimes 2023. All rights reserved.