Samsung has strengthened its Series 7 Notebook PC portfolio by announcing the launch of Enhanced Series 7 Chronos and Ultrabook high-performance upgrades for the 2013 Consumer Electronics Show (CES). The South Koreans have already released enhanced versions of external monitors, designed for PCs and laptops running on Windows 8.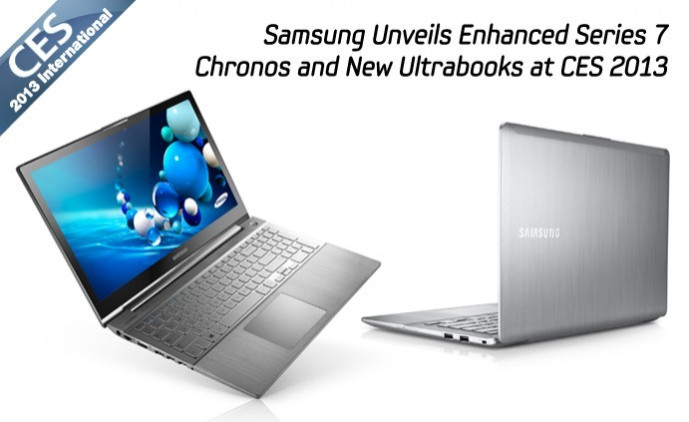 Follow all the news, reviews and rumours on our CES 2013: Live Blog
The company claims the Enhanced Series 7 Chronos line-up offers better performance in a form factor with reduced weight and thickness. The Series 7 Ultra, the manufacturer adds, will deliver improvements in computing power, graphics and touch capability. Both product ranges are expected to provide improved portability and connectivity.
"2012 was a definitive year for Samsung's PC business - we expanded our line-up, taking advantage of the new form factors and consumer demand. This led to significant growth in the Industry," David Song, the senior vice president of IT & Mobile Communications at Samsung Electronics, was quoted in a press release.
The statement continued:
"In 2013, we will continue to focus on innovation delivering products that fit into customer lifestyles while maintaining Samsung's high-end design and performance standards. The new Series 7 Chronos and Ultra products are just two examples of what you can expect to see from us throughout the year."
Series 7 Chronos
The Series 7 Chronos targets improvements in portability and performance, with a new software solution - RAMaccelarator. This software is claimed to deliver at speeds up to 150 percent faster, for browsing and running apps, via system memory optimisation.
The ten-finger multi-touch capability is supposed to enhance the user's direct screen interactivity, besides the keyboard and touchpad. The Series 7 Chronos is made of an aluminum unibody design and has an Intel quad-core processor, 16GB onboard memory, 2GB external graphics and up to 1TB of storage in a profile measuring 20.9mm in thickness.
The display is full HD (1920 x 1080 pixels) with 300nit brightness and JBL speakers. The claimed battery life of the Series 7 Chronos is a little over 11 hours and comes with a factory-rated boot-time of 12 seconds.
Series 7 Ultra
The new Ultrabook series also boasts an aluminum unibody design and has support for the same full HD display (1920 x 1080 pixels) but with 350nit brightness and AMD graphics; it has JBL speakers as well. The display offers viewing angles up to 178 degrees.
Powered by Intel's core i5 and i7 processors, the device's battery is rated to deliver about eight hours on a single charge. It provides for up to 256GB of storage space on Solid State Drives (SSD). The connectivity options include three USB 3.0 ports, a LAN port and a security (tether) slot.
Samsung's product line will be on display at CES 2013 between 8 and 11 January, at #12004 in the Central Hall of the Las Vegas Convention Center.