Beyonce and Jay Z risked an awkward moment at the CFDA Fashion Awards 2016. The music power couple were seen at the New York City awards ceremony on 6 June, also attended by fashion designer Rachel Roy, the woman accused of having an affair with Jay Z.
It was a special night for Beyonce, 34, who was presented with the style icon award by fashion designer Diane Von Furstenberg. However, the Formation singer's triumph was slightly overshadowed by Roy's appearance in light of the recent cheating scandal. Throughout her sixth album Lemonade, released in April 2016, Beyonce hints at Jay Z's infidelity and hinted at a mystery lover "Becky with the good hair" on the track Sorry.
Fans promptly speculated about the identity of the secret woman and Roy found herself the subject of feverish speculation along with singer Rita Ora. Roy, who was previously married to Jay Z's former business partner Damon Dash, fuelled speculation when she referenced having "good hair" on Instagram. However, she later denied being romantically involved with Jay Z, saying in a statement: "I want to put the speculation and rumours to rest.
"My Instagram post was meant to be fun and lighthearted, it was misunderstood as something other than that. There is no validity to the idea that the song references me personally. There is no truth to the rumours." Roy also tweeted: "I respect love, marriages, families and strength. What shouldn't be tolerated by anyone, no matter what, is bullying, of any kind."
It is not known if Beyonce and Jay Z bumped into Roy backstage at the event but the couple seemed preoccupied with celebrating the singer's achievement with their daughter Blue Ivy, who joined them at the awards. In her speech, Beyonce said: "I feel so much love and I feel so proud right now. Thank you guys for this incredible honour.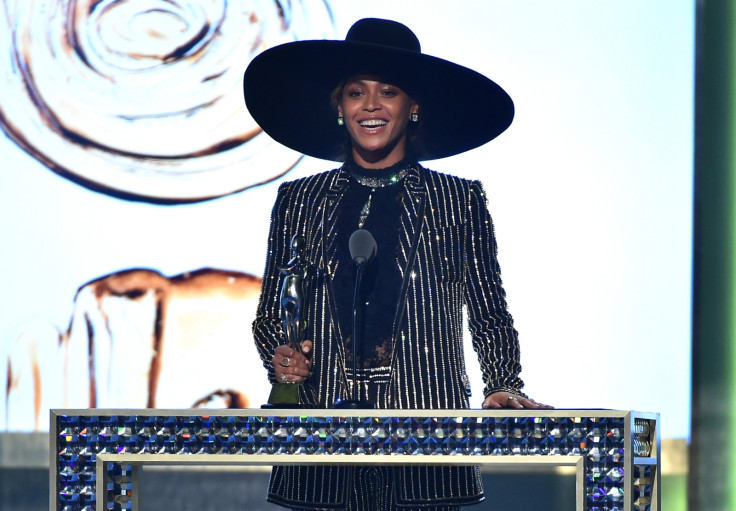 "As long as I can remember, fashion has always been a part of my life. Its effect on me actually started before I was born. Most of you guys don't know this, but my grandmother was a seamstress. My grandparents did not have enough money, they could not afford my mother's Catholic school tuition.
"So my grandmother sewed clothes for the priests and the nuns and made the uniform for the students in exchange for my mother's education. When we were starting out in Destiny's Child, high-end labels, they didn't really want to dress four black country curvy girls. And we couldn't afford designer dresses and couture. My mother was rejected from every showroom in New York. But like my grandmother, she used her talent and her creativity to give her children their dreams."
Clearly a fan of HBO's fantasy series Game Of Thrones, Beyonce referred to Emilia Clarke's character Daenerys Targaryen, telling the audience: "When I wore these clothes on stage, I felt like Khaleesi." She added: "I want to say thank you to every designer that works tirelessly to make people feel like they can write their own story."