The girlfriend of Rich Piana has denied rumours the bodybuilder died of a drugs overdose.
The celebrity bodybuilder and former Mr California died on Friday (25 August) , aged 46, after being placed in a medically induced coma two weeks ago.
His ex-wife Sarah confirmed on Instagram that he had suffered a "medical emergency" at his home earlier in August.
In a video posted on the late star's YouTube page his girlfriend Chanel Jansen admitted Piana took steroids, but claimed a white powder found in his house was protein powder.
Describing how Piana died, Jansen said she was giving him a haircut on August 10, when he lost consciousness.
"I thought he was stretching and all of a sudden he started to fall back to me," Jansen explained. "I said 'baby are you ok?' His eyes were rolling into the back of his head.
"I went to catch him and he was sweating to he fell and bumped his head. His eyes were wide open and he was gasping," she added.
Piana was rushed to the hospital, where he was put into a medically-induced coma. He died two weeks later.
Following reports of his death speculation mounted that Piana had suffered a drug overdose. His death is still under investigation as police await results of toxicology tests, however Jansen claims he died of a heart attack.
"You all know he's been doing steroids for 20 years and it shouldn't be any surprise that he had steroids in his house," she explained.
"Twenty bottles is not a whole lot and they had been there a year. He wasn't overly juicing," she said.
"Don't you think we would be a lot thinner than we are? He snorted Mutant Mayhem because it hit him faster and gave him a good work out," Jansen said.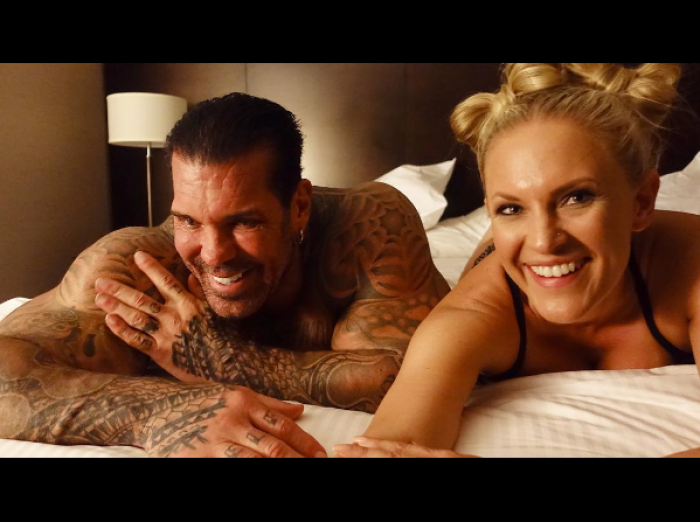 Breaking down in tears she revealed she was by his side as the 46-year-old lay in a coma.
"I was in hospital with him every day for three weeks," she said. "' didn't leave during his final moment, I was right there with him. I needed to see him go peacefully. I was holding his hand while he slept.
"Rich is a wonderful person who's changed a lot of lives including mine," she added.
Piana was a champion bodybuilder who won the Mr California title in 2016, as well as several other competitions.