The Big Bang Theory had an array of guest stars over its 10 seasons run on CBS Network. Famous Hollywood actors have left their mark on the show, from Tesla CEO Elon Musk, Star Trek's Leonard Nimoy to Marvel's legend Stan Lee that many of you might have forgotten about.
Here is a list of the top 10 the forgotten guest stars:
Charlie Sheen
The Two And A Half Men star made a cameo appearance in season 2 episode 4 titled The Griffin Equivalency, where Rajesh gets featured in People Magazine. Sheen had a brief encounter with the astrophysicist at The Cheesecake Factory, where Raj excitedly tells him that he is going to be in People magazine and Sheen sarcastically responds, "Call me when you are on the cover."
Stan Lee
The Marvel comics legend appeared on season 3 episode 16 titled, The Excelsior Acquisition, wherein Sheldon had to go to court for missing a red light, and missed out on having Gelato with Stan Lee.
However, by the end of the episode, Penny finds out Lee's address and brings Sheldon to meet him and the physicist hilariously ends up getting a restraining order from the Comic-Book writer.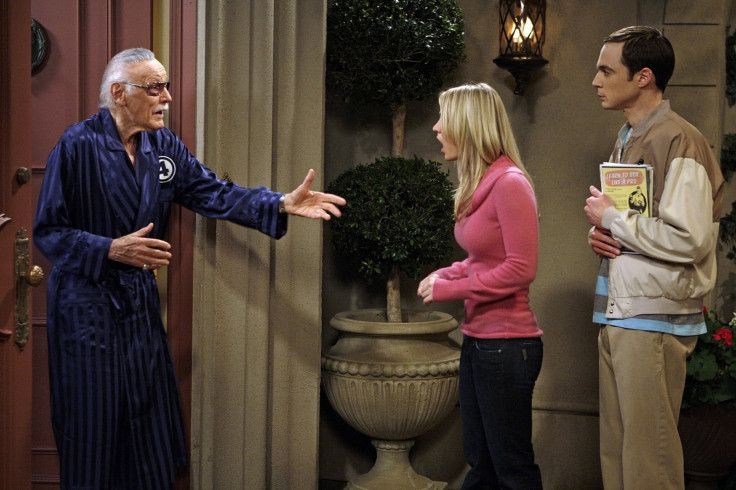 Katee Sackhoff
The Battlestar Galactica actress starred in two episodes of the CBS series — first in season 3 episode 9 titled, The Vengeance Formulation, and again in season 4 episode 4 titled, The Hot Troll Deviation. In both episodes, she appeared in Howard's intimate fantasies.

In her first appearance, Katee acted as Howard's fantasy and questioned him about his feelings for Bernadette. In season 4, she appeared again in Howard's fantasy and ends up helping the engineer to muster the courage to talk to Bernadette and eventually get back with her.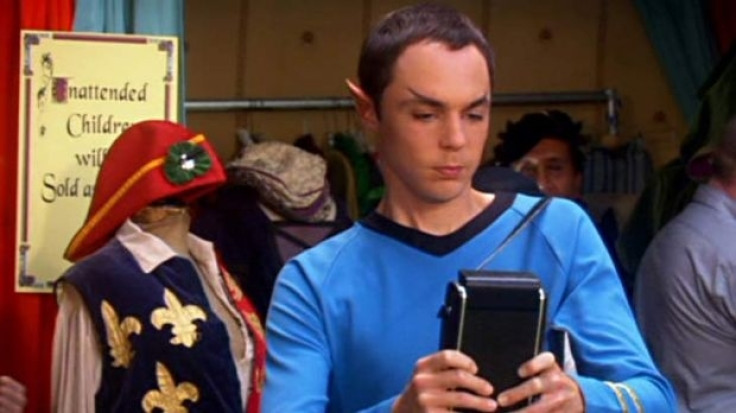 Leonard Nimoy as Spock (voice)
The late actor who was best known for playing the half-Vulcan Spock in Star Trek series has been referenced in many episodes, as the show's lead character Sheldon Cooper is a huge fan of Nimoy and his character.
In season 2, Sheldon received napkin signed by Leonard Nimoy as a gift from Penny, and in season 3 Sheldon revealed that he has a restraining order against the Star Trek star. However, the actor made his first voice appearance, as he provides the voice for a Spock action-figure in season 5 episode 20 titled, The Transporter Malfunction.
In the chapter, Nimoy convinced Sheldon to use his transporter and later shunned him for replacing the toy with Leonard's after he broke his own.

Buzz Aldrin
The second man to walk on the moon also made his footprints on The Big Bang Theory. In season 6 episode 5 titled, The Holographic Excitation, Howard gets a little boastful about his astronaut adventures and Rajesh sends him a video link featuring Aldrin boasting about his astronaut career just like Howard.
Aldrin is seen handing out Halloween candy to kids mentioning his trip to space to every kid, and Howard finally realises the error of his ways.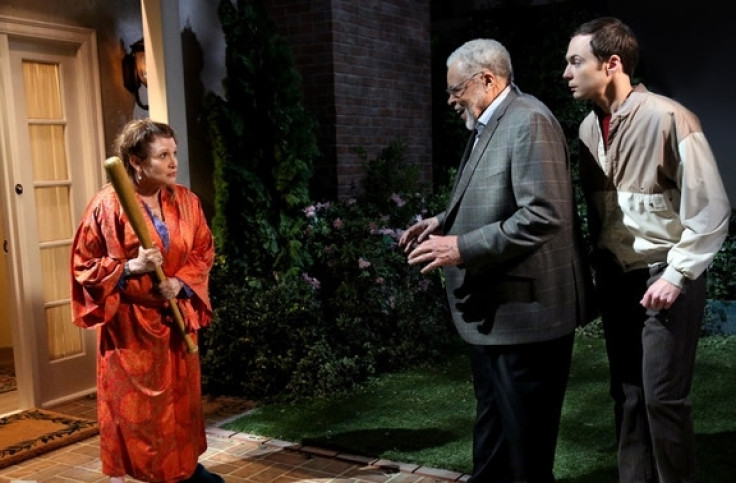 James Earl Jones
Best known for voicing Darth Vader in Star War movies, Jones appeared in season 7 of Big Bang Theory, where Sheldon tries to start his own convention after not being able to buy Comic-Con tickets online.
Sheldon stalks Jones and meets him in a Sushi restaurant and surprisingly they hit it off. The duo spent the night doing various activities; they go to an ice-cream parlour, a carnival, a strip club, and a sauna.
Carrie Fisher
The late Princess Leia actress appeared in the same episode as Jones, which is titled, The Convention Conundrum. In episode 14 of season 7, Jones comes up with a way to prank Fisher with Sheldon as his accomplice. They knock on her door and run away as a furious Fisher opens the door and yells, "It's not funny anymore James."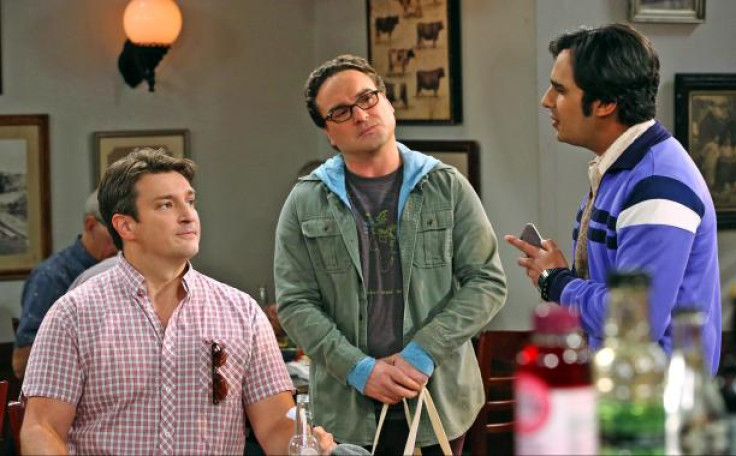 Nathan Fillion
The Castle actor appeared in a hilarious scene in The Big Bang Theory season 8 episode 15, titled, The Comic Book Store Regeneration. Leonard and Raj spot Fillion eating his lunch in a Deli, but he denies being an actor. "You think I am Nathan Fillion, but I am not," says the Firefly actor.
However, Raj keeps pressing him and later he admits that he, in fact, is Fillian. But then Raj hilarious refuses to accept he is Fillian and after a long argument about whether or not he is the Firefly star, the actor annoyingly takes a selfie with Leonard and Raj.
Elon Musk
The founder of SpaceX and Tesla Motors appeared on episode 9 of The Big Bang Theory season 9, where Howard meets his hero, Musk, while serving the homeless dinner at a soup kitchen.
Howard shares with Musk that he is an astronaut and that he would love to go to Mars and be involved with his project of colonising Mars.The investor then offered his email address to Howard to stay in touch stating that he might need engineers for his upcoming projects. Also, they share a half-eaten piece of pumpkin pie.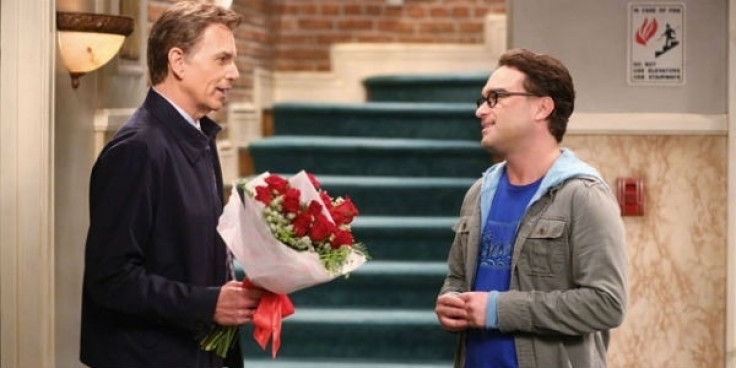 Billy Bob Thorton:
The Academy Award winner appeared as Penny's creepy client Dr Oliver Lorvis in The Big Bang Theory season 8 episode 9 titled, The Misinterpretation Agitation. He comes knocking at Penny's door with roses to initiate a romantic relationship because Penny apparently winked at him.
Although Leonard gets pissed that his fiancee is flirting at work, he quickly clears the confusion and reveals that Penny is his fiancee and that he may have misread her signals.
However, the gang quickly becomes fond of the doctor, as he turns out to be a celebrity urinary specialist. Lorvis shows them James Cameron's kidney stones and the gang ends up having a great time at the doctor's house, playing with his movie prop collection.