Charlotte police released two videos of the fatal shooting of a 46-year-old black man, whose death on 20 September led to riots and protests in North Carolina.
It is unclear from the footage whether Keith Lamont Scott – the victim – was holding a gun or not, that prompted the police to fire at him. Officials also released images of a handgun and a marijuana blunt that they said Lamont Scott had in his possession. In the two videos – one from a body camera and another from a police cruiser dashboard camera – Scott and the police could be seen involved in an altercation.
Along with the video and images, police released a statement on 24 September and said that officers saw Scott was "rolling what they believed to be a marijuana 'blunt'," but added that they "did not consider Mr Scott's drug activity to be a priority".
The dashboard camera footage shows Scott getting out of his vehicle and walking backwards with his hands down, but it does not explicitly show if he was armed. He falls to the ground after four shots are heard.
The body camera footage shows Scott outside of his car with his hands down, but the moment the bullets were fired at him is not shown. Previously, the victim's wife Rakeiya Scott had released footage of the incident, where she was heard shouting that he was unarmed.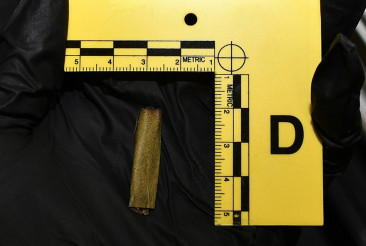 And the claim by the police that Scott had a gun has been rubbished by his family members.
Charlotte-Mecklenburg police chief Kerr Putney has admitted that the videos are insufficient evidence to prove that Scott was holding a gun, but he added that the overall evidence, including an eye witness testimony proves that he was armed.
"There is no definitive visual evidence that he had a gun in his hand - you can see something in the hand - and that he pointed it at an officer. That I did not visually see in the video. But what we do see is compelling evidence that, when you put all the pieces together, supports that," Putney said.