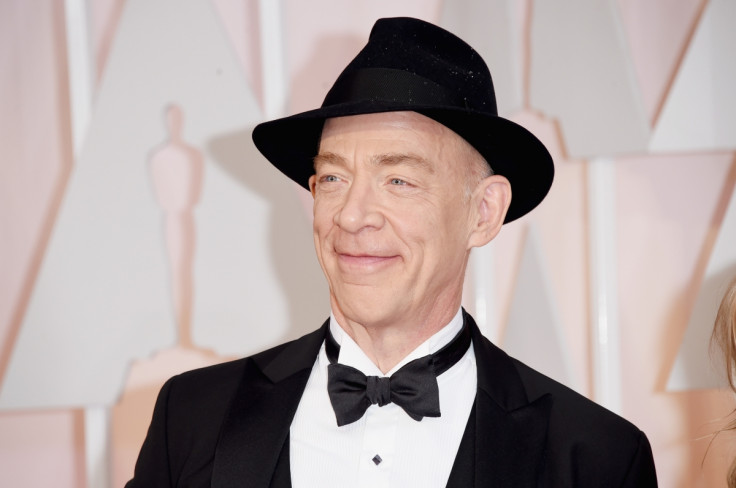 Fans for the Dark Knight celebrated Batman Day on 17 September with a series of tributes to the masked superhero. In keeping with the theme, Justice League director Zack Snyder revealed the first look of JK Simmons as Gotham City Police Commissioner James Gordon.
The black-and-white image shows Simmons dressed in character, staring up at the night sky next to the illuminated Bat-signal on a rooftop set. In the photo, the actor is portrayed true to the comic book character, with spectacles, moustache and hat.
"People of my generation remember Commissioner Gordon as this jolly, ineffectual Santa Claus type, and I think over the years in the comics there's definitely much more of a badass side to him," he told EW following the announcement that he had been cast for the role.
"One of the things that's interesting to me is investigating hopefully a little bit more of that badass [side]...You're living in a universe where it's pretty tough to be a badass compared to somebody like Batman, but in the universe of non-superheroes I like the idea of Commissioner Gordon as a guy that can take care of himself, a guy that's a real partner to Batman, not just a guy that turns on the bat signal and goes, 'Help! Help, Batman!'"
Simmons also informed that his role in Justice League is a small one, but there are chances he could be playing a bigger part in Ben Affleck's solo Bat-film, which is expected to release sometime in 2018. For now fans will be able to catch the GCPD commissioner in action alongside Ben Affleck (Batman), Gal Gadot (Wonder Woman), Jason Momoa (Aquaman), Ray Fisher (Cyborg), Ezra Miller (The Flash), and Henry Cavill (Superman), when the film reaches cinemas on 17 November 2017.