Eden Hazard insists he\'s not concerned with the toughness of the Premier League, with the Chelsea signing saying he can improve on his brilliant debut for the side as they defeated Wigan 2-0 on Sunday.
Hazard made the highly-publicised move to the Blues at the start of the summer, with the playmaker a big acquisition for the side as they look to defend their Champions League trophy and get back into top four contention this season.
And after creating two goals within the first 10 minutes in Chelsea\'s season opener, Hazard insists he has never been worried about moving from the French league to one which has a reputation for being particularly tough.
\"I already had a taste of these kind of tackles in the Community Shield,\" he told the Sun. \"I was kicked quite a bit in the first half against Wigan but, in France, it was already like that for me.
\"I wasn\'t aware I was the most fouled player in the match, I wasn\'t counting them.
\"At the start of the game, you could see the way I play and the most important thing is I\'m not injured.\"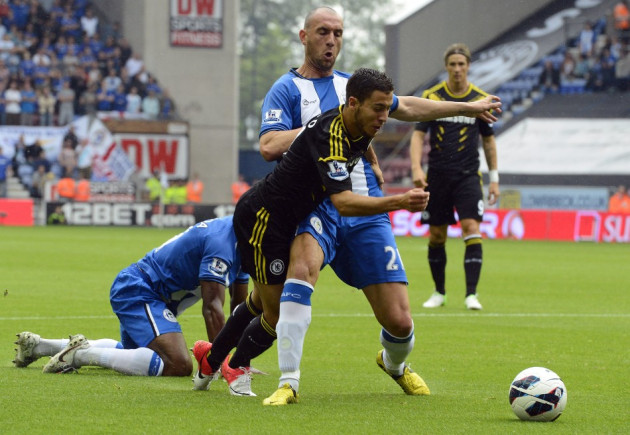 Chelsea will be particularly pleased with how their new signing performed, considering how much work it took to get him on board in the midst of Manchester United and Manchester City chasing the Belgian.
But Hazard says there\'s a lot more to come after his first competitive performance for the west London side, with the perfectionist pointing out errors in a performance that was almost flawless.
\"There are still a lot of things I can do better,\" he explained. \"I lost a lot of balls in the second half, but I contributed what was asked of me. I was asked to be decisive and I was, with the penalty and an assist.\"
Chelsea will be tinkering a great deal with their playing system over the next few weeks, particularly in their match-up with Reading this Wednesday. And Hazard is showing yet again why he chose a move to Stamford Bridge, with the star saying that Roberto Di Matteo has loads of options with his selections after the Wigan game.
He said: \"There are loads of possibilities. Ryan Bertrand was on the left against Wigan and Daniel Sturridge can play there as well and the coach won\'t hesitate.
\"He will just put the best players on the pitch. Our preparation was very good. Physically speaking, I feel impeccable.\"