Queen Elizabeth II and other members of the royal family have attended the preview of the 2016 Chelsea Flower Show at the Royal Hospital Chelsea in London.
Highlights included The New Covent Garden Flower Market's exhibit: 'Behind Every Great Florist' which involved a floral portrait of the monarch. The floral installation, designed and created by Ming Veevers Carter with Helen Evans from the CGMA (Covent Garden Market Authority) is made up of 10,000 flowers and won the new design award.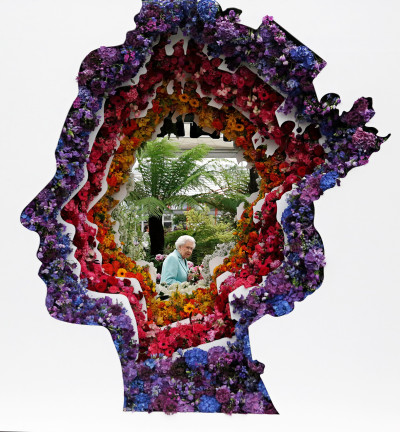 Queen Elizabeth II visited the 5000 Poppies Garden, designed by Philip Johnson, comprising almost 300,000 knitted or crocheted poppies to create the spectacular array of flowers – an Australian tribute of remembrance for those who have fought for their country in wars.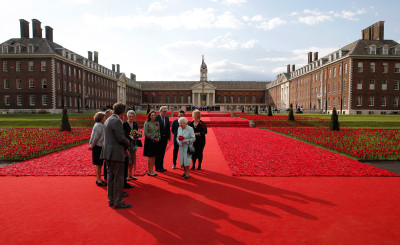 The Duke and Duchess of Cambridge also visited the horticultural showcase – their first as a couple. The Duke and Duchess were shown a new flower, the Rossano Charlotte (Princess Charlotte chrysanthemum) named after their daughter, which is being entered for the Flower of the Year category. Princess Anne and Prince Andrew were also in attendance, along with Princesses Beatrice and Eugenie.