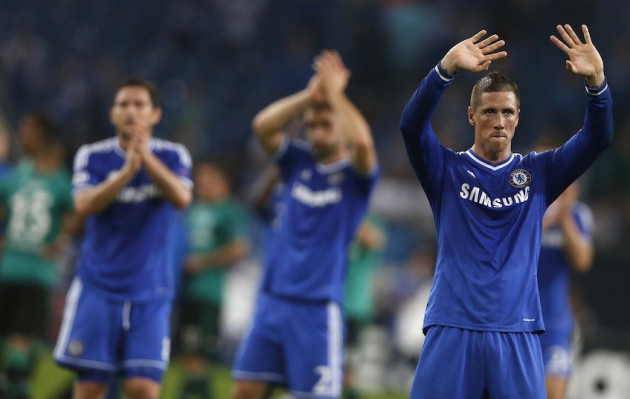 The German press have come down on Schalke over their 3-0 loss to Chelsea but some publications have been more sympathetic to the side as Fernando Torres re-found his scoring touch.
Torres opened the scoring for the Blues within five minutes at the Veltins-Arena and added to his tally in the 68th minute to shut down a dominant Shalke side. Eden Hazard posted a goal in the final minutes to give Chelsea the convincing win but the German press bemoaned being the one top-flight team that the Spaniard could score against this season.
"[Torres] appeared out of shape this season," Bild claimed. "In the Premier League nothing goes right for the Spaniard. But as soon as he comes up against German teams, the star striker turns his talent on."
The Spaniard clearly enjoys playing german sides having also scored against Bayern Munich in the Supercup as Chelsea eventually losty to the Bavarian giants on penalties.
Meanwhile Kicker claimed that the only good news to come out of the night for Schalke is that they have Kevin-Prince Boateng back in the starting line-up after the midfielder recovered from a knee injury.
But the former Tottenham midfielder couldn't help his side gain a victory and it would appear that Jose Mourinho's men are back on track with their Champions League hopes after their shock loss to Basel.
Die Welt wasn't so kind to Chelsea though, claiming that it was their negative tactics that got them the win against their German opposition, saying Mourinho's tactics were reminiscent of his days at Inter Milan where he was 'mercilessly cold and efficient'.
The paper also questioned whether Andre Schurrle is going to get the most out of his skills at a club who 'only enter their attacking half to score a goal'. The striker has however insisted he is very happy at the club and that Mourinho is making him a better player.
North Rhine-Westphalia newspaper Der Westen reported that Schalke manager Jens Keller did not believe that the 3-0 scoreline reflected the team's performance.
"3-0 sounds very clear but it is not a reflection of the game and that annoys me greatly," he said. "It was very unfortunate to concede first from a set-piece. Nonetheless, we created chances of our own.
"We should have taken one of them, as you don't get many against a quality side like Chelsea."