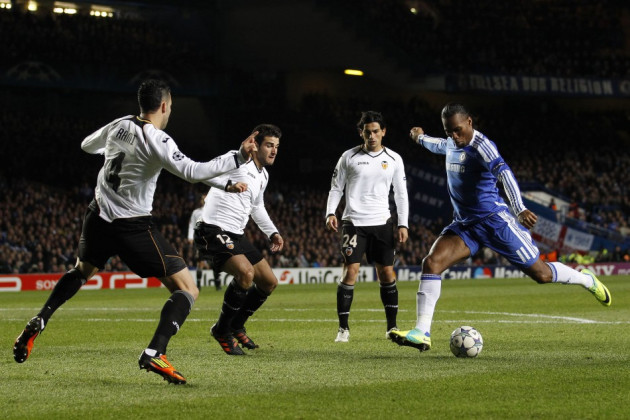 Click Here - To watch highlights of Chelsea 3-0 Valencia!
Chelsea cruised past Valencia with a morale-boosting 3-0 win, in their final game of the Uefa Champions League group stage, to qualify for the knockout stages as group winners.
Much had been made of this tie, after a stoppage time loss to Bayer Leverkusen a fortnight back, with Chelsea facing elimination if they failed to beat their Spanish visitors.
As it turned out, however, Andre Villas-Boas' tactics worked perfectly. He returned to what Chelsea do best with solidity at the back and striking on quicky counters.
It helped Dider Drogba return to something close to his best as he opened the scoring in as early as the 3rd minute after former-Valencia man Juan Mata set him up in the box.
Chelsea were content without possession and attacked with efficiency when they did have it. Drogba did well to drive forward before threading one through for the onrushing Ramires on 22 minutes. The Brazilian got past Victor Ruiz before slotting in the crucial second.
Valencia were always deterred by an efficient center-back pairing of John Terry and David Luiz. When they did manage to get past the, they found Petr Cech at goal-saving best.
As the game progressed, Valencia attacked with urge, leaving them prone to Chelsea counters. Drogba's second came when Valencia lost the ball and Mata found the Ivoirian in behind the defence. The 33-year-old finished calmly to set Chelsea off on their celebrations.