Kanye West upset a few celebrities after featuring naked look-a-like of Taylor Swift, Rihanna, Chris Brown, Donald Trump and his wife Kim Kardashian-West in bed in his controversial Famous video. Well, it seems some celebs are getting their own back, with a little help from DJ Radio 1 DJ Nick Grimshaw in a video mocking Yeezy's video for his Radio 1 Breakfast Show.
Grimmy's version features a celebrity line-up, all of whom who are fully clothed in the 'suitable for work' version, including Cheryl, Justin Bieber, 5SOS, Nick Jonas, Carly Rae Jepsen, Meghan Trainor, Troye Sivan, Craig David and Ant & Dec.
In the hilarious video, Cheryl and Bieber are seen debating who is the hottest star. "Probably me," says Justin, before adding: "No I'm just messing with you but I do have a perfectly symmetrical face."
Posing a challenge, the Crazy Stupid Love singer tells him: "I bet you can't spend the next minute giving me compliments," prompting him to reel off a list. "You're kind, you're handsome, you have a nice jacket, you are fit, you have nice shoes, you've got a good haircut, you've got good jugular action going on.'
Meghan Trainor shares the bed with Troye Sivan's whose attempts at flirting with her are all in vain as she shuts him down with the lyrics of her song No. Nick Jonas tries a questionable pick-up line on Carly Rae Jepsen. "I have to wear leather these days just to stay warm when I'm next to you," he says.
Craig David is joined by Ant McPartlin, only to discover that the other half of the inseparable Geordie TV duo is right by his side.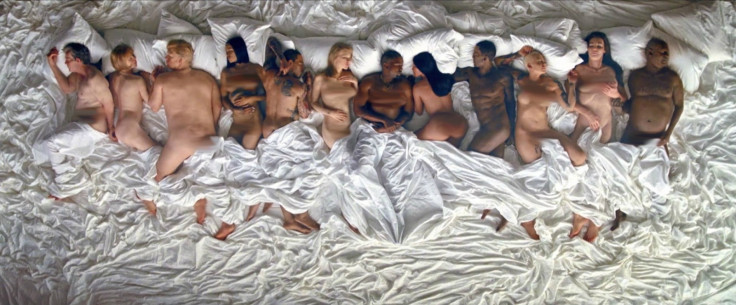 While Kanye is rumored to have forked out £750,000 for his video, which took almost a year and half to make, Grimmy's parody was a whole lot cheaper and funnier.