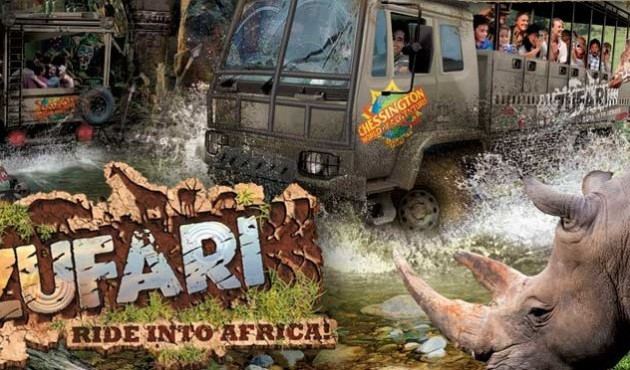 A safari resort has banned visitors from wearing animal print clothes in case they get eaten by one of the zoo occupants or scare them.
Chessington World of Adventures has introduced the dress code at its Zufari resort because some outfits are confusing the animals.
Big beasts such as lions think guests in zebra print gear are a juicy meal, while the Blesboks and Nile lechwe (species related to deer) fear that leopard print wearers could be predators looking on the prowl for prey.
There was also the risk of animals becoming over-friendly if they spy a guest wearing an outfit that matches their own natural coat, said zoo managers.
Animal behaviour consultant Dr Candy D'Sa, of Alton, Hampshire said: "Possibly the worst thing you could do is limp past the lion or tiger enclosure in a zebra print outfit.
"Movement is a key trigger. Big cats will start getting interested if someone limps past their enclosure because they look weak.
"Certain colourations give warning signals to other animals. Colours and patterns are there for a reason in nature - it's about predator-prey interaction."
On the banned list are outfits with patterns resembling zebra, giraffe, leopard, cheetah, tiger, spotted hyena, striped hyena and African wild dog.
Park spokeswoman Natalie Dilloway said: "We have noticed a lot of animals becoming baffled by animal-print-wearing guests. Visitors get so close to wild species that if someone wears the same pattern as the animal's coat they can become over-friendly.
"The enclosures at Zufari have been designed to replicate the conditions species face in the wild.
"Therefore it's no wonder animals are getting confused when they see what look like zebras and giraffes driving across the terrain in a 7.5-tonne truck.
"If they wear the pattern of its predator, it has the opposite effect and the animals become afraid and run away."