Courtney Stodden rose to prominence in 2011 after her mother Krista Keller gave her consent for the then sixteen-year-old to getting married to Green Mile star Doug Doug Hutchison. But five years on, and the mother and daughter's relationship has disintegrated.
Speaking to Radar Online, the 21-year-old star, who has since made a name for herself with appearances on VH1's Couples Therapy and Celebrity Big Brother, claims that her mother made a play for her husband.
"My mom attempted to craft really inappropriate boundaries that a mother should never cross in her daughter's life and her relationships," the blonde TV personality explained. "She really started to fall inappropriately for my husband."
According to the Peta advocate, her mother's insecurity was at the root of the bizarre love triangle. "My mom wasn't happy, she wasn't having a great relationship with my father. She was living through me for a while. She said, 'What my daughter feels I feel!'"
Stodden admitted that as a result of her mother's infatuation, the pair were estranged for over a year. They have now joined The Mother/Daughter Experiment in a bit to save their relationship and are one of six mother-daughter duos featured in the Lifetime show, which is set to premiere in March.
"We hadn't seen each other, we hadn't talked to each other, so we felt like it would be a great experience," Stodden added that she regrets taking her mother on as her manager, claimed that she was living her living her live through her."They always say don't mix business with family. That had a huge role in it."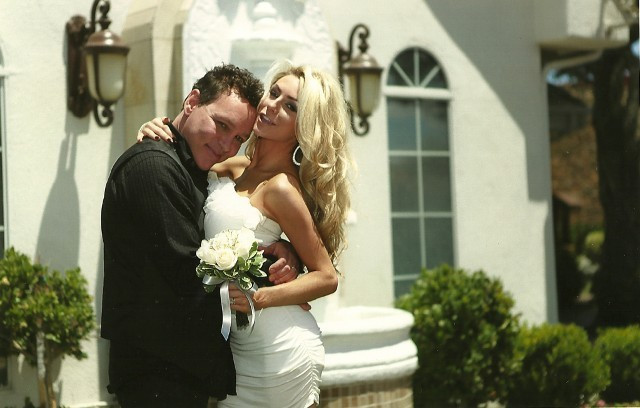 "She was in such a vulnerable position," Stodden shared. "I got really frustrated with her. I was dealing with a lot of panic attacks on set dealing with the relationship I had with my mom."
In November 2013 Stodden and Hutchison, who appeared together on the reality show Couples Therapy in 2012, legally separated citing their 34-year age gap as the main reason. But by August 2014, they had reunited and Stodden says they are now stronger than ever.
"My relationship with Doug is really, really good. We're getting ready to celebrate our 5th wedding anniversary in May and we're going to renew our vows."