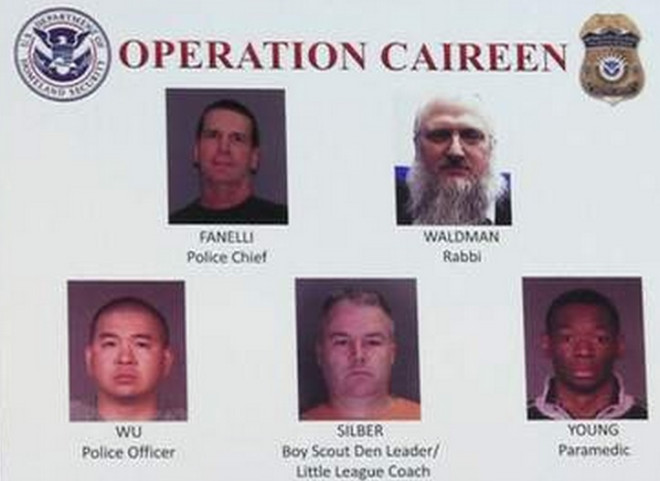 US police arrested a Jewish rabbi, a police chief and a boy scout leader for allegedly sharing child sex abuse images during a series of raids on suspected paedophiles.
The men -- who are pillars of their communities - were held as part of Operation Caireen, which saw 600 personal computers and mobile phones seized as part of the investigation.
Also held was a paramedic, two nurses and an au pair. In total, police made 70 arrests.
The nature of the suspects' professional posititions means the operation has echoes of Operation Ore in the UK, which saw respectable members of society convicted of child sex crimes during the early years of the last decade.
The image above shows suspects and the respectable jobs they held while allegedly collecting large quantities of illegal web filth.
Launched by the Immigration and Customs Enforcement team, a spokesman for the department said the Operation Caireen arrests showed child sex criminals were not only "unemployed drifters who live in their parents' basement".
"If this operation does anything, it puts the lie to the belief that the people who do this are not productive members of society," he said.
Manhattan US attorney Preet Bharara said: "Crimes involving the exploitation of children are particularly disturbing because they victimise the most vulnerable members of our society.
"Such images are not merely photos or videos; they are evidence of the physical and psychological abuse of children."