A paediatric intensive care consultant was left "deeply hurt and upset" after being burgled as he worked a selfless 24-hour shift on Christmas Day - and then spent 12 hours searching for his beloved escaped cat.
Adam Nicholls and his girlfriend, nurse Alexandra Knight, were devastated and heartbroken to find their West Didsbury home "wrecked" and their two cats missing on Boxing Day morning, after both working Christmas hospital shifts.
Knight completed a night nursing shift in intensive care at Alder Hey Children's Hospital on Christmas morning and came home to have breakfast with Nicholls, the only time they saw each other before he began a 24-hour shift at Leeds Children's Hospital. Knight got some sleep, then went to her parents' house for the rest of Christmas Day - but was left in tears after discovering her home had been ransacked, with all their presents and valuables stolen, when she returned on Boxing Day.
On Christmas Day afternoon, Nicholls tweeted: "Working Christmas Day @Leeds_Childrens. It's a privilege to work with so many dedicated people who are looking after others and are away from their own families." But the next day, he was forced to spend 12 hours searching for his beloved cat.
Nicholls told IBTimes UK: "Having your home broken into is a violation that leaves you hurt and deeply upset. To come home to it after being in work for over 24 hours made it feel even worse.
"Alex and I both spent our Christmas looking after critically ill children. It felt so depressing that we had no Christmas to look forward to; we'd planned to have our Christmas Day on Boxing Day with our parents. We felt so sick that we couldn't eat and all we wanted to do was find our cat.
"That our presents and stuff had been stolen was heartbreaking but it can all be replaced. Nothing could replace our cat."
The couple had only just moved to the area and were worried their extremely shy cats, Bet and Nancy, were lost and unsafe after the burglars left their back door open. Thankfully, Bet appeared quite quickly, but a frantic 12-hour search followed for Nancy.
During the search, Nicholls found both their spare sets of car keys and his Christmas card from Knight discarded in the nearby church grounds. He said: "The callousness of it made me feel really sad."
In desperation, he posted a photo of Nancy on Twitter asking people to retweet, and the result exceeded his expectations. His tweet about missing Nancy was eventually retweeted 7,000 times after being shared by Dr Ranj Singh, resident doctor on ITV's This Morning and CBeebies Get Well Soon presenter, who has more than 48,000 followers. Singh tweeted: "This is my awesome friend who did a 24-hour shift on Children's Intensive Care over Xmas, only to get burgled and lose their beloved pet . If you see her, please get in touch!"
BBC News presenter Simon McCoy also shared the appeal, with some damning words for those responsible. "Dear burglars. Look at what this guy was doing for a job while you were stealing from him on Christmas Day. You defy description," he said.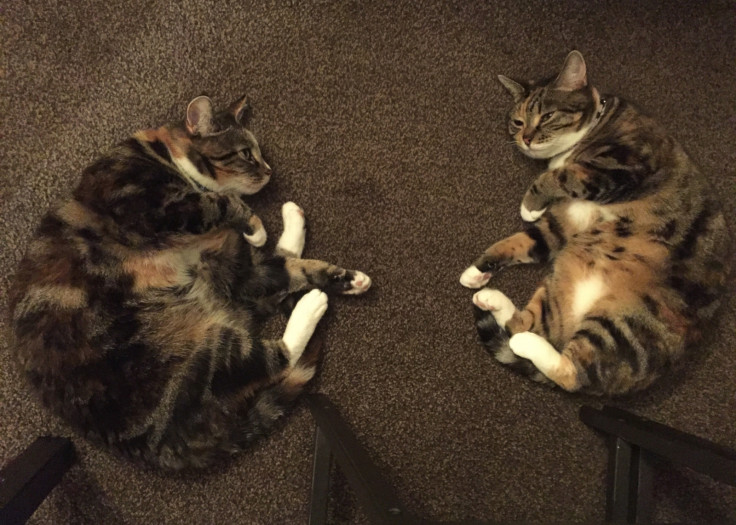 Speaking about the unexpected amount of support he received on Twitter, Nicholls said: "That so many people cared and showed concern from all over the world was unbelievable. We never in a million years would have guessed the reaction we got. I just wanted to get her picture out there so if anyone saw her her they'd know she was lost and get in touch.
"I don't have that many followers on Twitter so to have thousands of retweets and likes was amazing. The love that people expressed when she was found was genuinely quite overwhelming. So many people caring about our little cat who we love dearly."
Eventually, after the couple made lost pet posters, phoned the nearby animal sanctuaries, registered Nancy on missing pet sites and dealt with the police, Knight heard Nancy's bell and managed to coax her out from beside a neighbour's garage looking "clearly terrified and very cold".
Nicholls tweeted again to thank everyone for their support, saying: So 3200 retweets and 12 hours of searching. Both me and @knightnurseXx are delighted that Nancy is home. More than a little overwhelmed by the kind thoughts and love from people. Thieves can steal objects but they're replaceable. Nancy is one in a million."