In a show of force against Japan, China is reported to have flown six long-range nuclear-capable bombers over disputed islands in the Miyakao Strait on Thursday (13 July).
When Japan protested about the military exercise, Beijing gave a rather interesting response, saying that Tokyo should "get used to" its military exercises instead of protesting.
The Xian H-6 bombers flew between the Japanese islands of Miyako and Okinawa, to the northeast of Taiwan, which China claims as its own, Reuters reported.
While the flight route was close to Japanese airspace, the Chinese planes did not violate it, Japan's defence ministry said in a statement late on Thursday (13 July).
The Chinese defence ministry, however, lashed out at Japan for raising an issue out of it and said it was "legal and proper" for a Beijing military aircraft to operate in the region.
It warned that the communist country would continue to hold training exercises regularly in the airspace according to "mission requirements".
"The relevant side should not make a fuss about nothing or over-interpret, it will be fine once they get used to it," China said.
The Xian H-6 is known to be a licence-built version of the Soviet Tupolev Tu-16 twin-engine jet bomber that is used by China's People's Liberation Army Air Force.
Beijing is known to conduct military exercises by flying its warplanes into western Pacific waters through international airspace and the Miyako Strait is one of the routes that it uses.
Both Miyako and Okinawa are Japanese territories, with Okinawa the home base for the majority of US troops that are stationed in Japan.
Taiwan also said it was "closely following" the movements of the six Xian H-6 bombers that, according to its Ministry of National Defence, flew just outside its air defence identification zone.
Japan has long accused Beijing of increasing its military activities in its airspace, especially around the East China Sea, where both sides have locked horns over claims to a long chain of islands traditionally administered by Tokyo.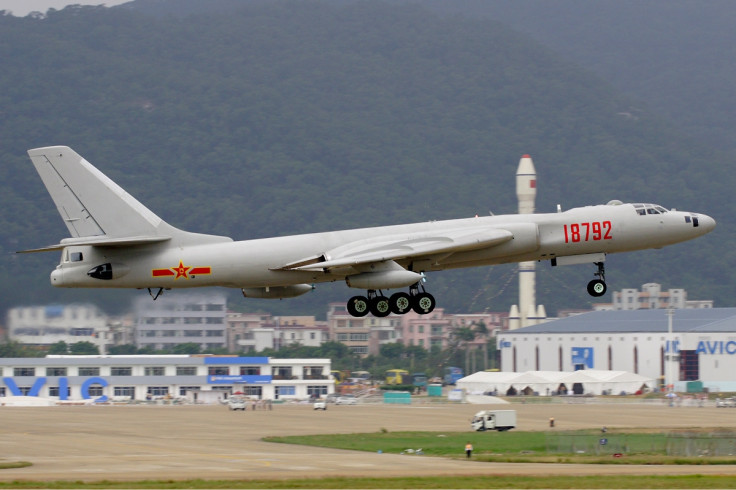 According to data released by the Japanese government earlier in March, a record number of fighter jets were scrambled by the Japanese air force from the start of the year till 31 March to keep a check on Chinese and other foreign aircraft in the area.
Japan's Air Self Defence Force scrambled fighter jets 1,168 times over a 12-month period – up from 873 in 2016.
A record number of 851 jets were dispatched to intercept approaching Chinese planes, which was again 280 more when compared to the corresponding period last year.
Japan is reported to be concerned over Beijing's interest in Tokyo's air defences as part of its muscle-flexing exercises, not just in the disputed territories, but also farther into the Pacific.