The US military conducted "freedom of navigation" exercises against 13 countries last year, including several against China and India, according to a Pentagon report. Multiple exercises, which are designed to challenge "excessive" maritime claims asserted by nations, were directed against China, India, Indonesia, Iran, Libya, Malaysia, Maldives, Oman, the Philippines and Vietnam.
It is unclear how many exercises were carried out against each of the countries on the list. US forces also conducted solitary navigation operations against Argentina, Nicaragua and Taiwan in the period between October 2014 and September 2015.
The Pentagon said its exercises against China were meant to challenge its restriction on foreign aircraft flying through a designated "air defence identification zone" and its maritime and aerial jurisdiction over an "exclusive economic zone".
China claims most of the South and East China seas as part of its sovereign territory. It has built several artificial islands in the midst of a reef system in the South China Sea known as the Spratly Islands – increasing tension with Taiwan, Vietnam, the Philippines, Malaysia and Brunei, who all have overlapping claims on the territory.
Beijing is also involved in a separate dispute with Japan over a group of eight uninhabited islands in the East China Sea.
Growing tensions
China's defence ministry reacted angrily after reports the US flew six fighter jets near Scarborough Shoal, called Huangyan Island by Beijing, on 19 April.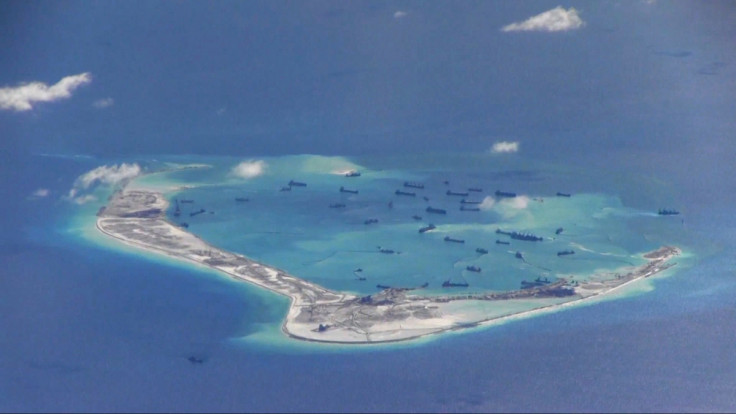 "We have noticed such reports, and it should be pointed out that the US is promoting militarisation of the South China Sea in the name of 'freedom of navigation'," the ministry said in a statement on 25 April. We oppose such actions by the US, which threaten sovereignty and security of countries around the South China Sea and undermine regional peace and stability.
"The Huangyan Island is China's inherent territory and the Chinese military will take all necessary measures to safeguard national sovereignty and security," it added.