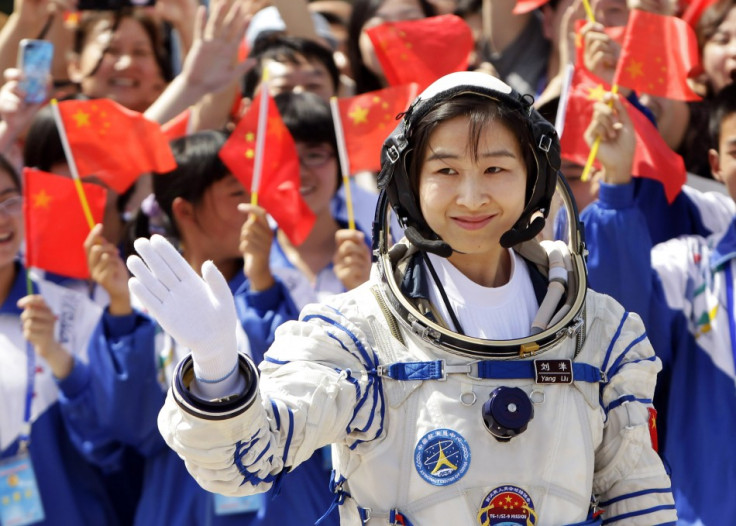 China has successfully launched its Shenzhou 9 spacecraft with the first Chinese woman astronaut on board from the Jiuquan spaceport, located in the Gobi desert at 18:37 local time.
Shenzhou 9 spacecraft is China's fourth manned spacecraft which is carrying three astronauts: Jing Haipeng, Liu Wang and Liu Yang. Among them, Liu Yang, a 33-year-old a pilot, will be the first Chinese woman to set foot in the Tiangong 1 space lab, which is orbiting outer space.
"When I was a pilot I flew in the sky; now as an astronaut, I'm going into space. It's higher and it's farther," the BBC quoted Astronaut Liu Yang, as saying. "I want to record all my feelings and my work, to share with my friends, and my comrades and my future colleagues."
Jing Haipeng, 46, who has already visited the Tiangong 1 space lab in 2008, is making his second visit.
Liu Wang, 42, a fighter pilot, who spent 14 long years in the China National Space Administration, has finally got a chance to visit the Tiangong 1 space lab.
The Tiangong space lab is an 8.5-ton space-laboratory module, which is capable of supporting the docking of manned and autonomous spacecraft; it was launched in September 2011. Chinese officials claim that the three astronauts will live and work in the Tiangong 1 space lab for more than 10 days.
"We've done many simulations," the BBC quoted Astronaut Liu Wang, as saying. "We've mastered the techniques and skills. China has first class technologies and astronauts, and therefore I'm confident we will fulfill the manual rendezvous."
During the space mission, the astronauts will try to manually dock with the Tiangong 1 space lab and once the dock test is successful they will live inside Tiangong 1 space lab for some days.
Scientists claim that the project is a major step for China to know more about the space and space technologies.
China has also taken another major step by sending a Chinese woman to explore outer space. "The Chinese female astronaut's participation in the manned space mission will accelerate research and development of female astronaut-related products, training and selection," Xinhuanet quoted Wu Ping, spokesperson at the Jiuquan spaceport, as saying."It could also showcase Chinese women's good image and further promote social influence of the country's manned space programme."
"As a female, I'm looking forward to the performance of China's first female astronaut's space flight," she said.