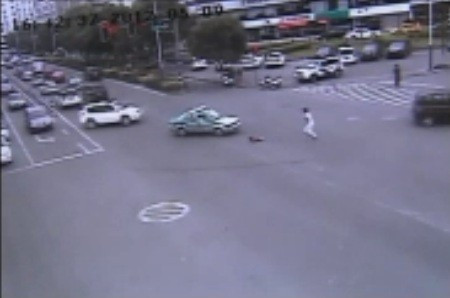 A Chinese man jumped out of his car and ran through traffic at a busy road junction to save his four-year-old daughter after she opened the passenger side door and fell into the road.
Traffic cameras show the child slipping out of the people carrier in Wenzhou city in China's Zhejiang province.
The taxi behind the vehicle stops just in time as the child rolls into its path before the father jumps out of his car while it is still moving and runs back to pick her up.
A police officer told CCTV: "I heard the taxi brake suddenly. Then I saw a child fall out on the ground.
"A second later, I saw a car without a driver inside hit the tree. I rushed there. It turned out that the child climbed from the back of the seat to the front while her father was driving and accidentally opened the door."
The officers added that, because the taxi was moving slowly and its driver reacted quickly, the girl escaped with just minor bruises.