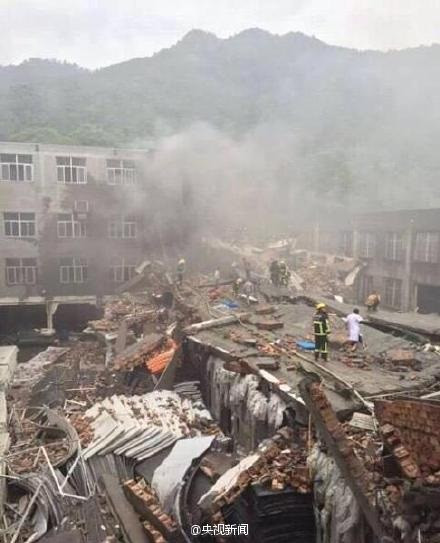 Nine people are still unaccounted for after a shoe factory collapsed in eastern China, according to state media.
Reports from State-run China Central Television (CCTV) say that at least 51 people were working in the four-storey shoe factory in the city of Wenling, when it collapsed at around 4pm local time (8am GMT).
The China Daily newspaper said a large pool built on the factory's roof was believed to be the cause.
CCTV tweeted that 42 people had been rescued, but nine remained missing, believed to be trapped in the rubble.
The China News website said several hundred firefighters were involved in the rescue.
The tweet, sent from the @cctvnews handle, said: "#UPDATE 42 people rescued, 9 others still unaccounted for after a factory collapsed in Wenling, Zhejiang"
Wenling, in the Zhejiang province, is well-known for its footwear industry and the city's tourism office says one in five pairs of shoes available worldwide originates in Wenling, BBC news reports.
Yesterday a 6.5 magnitude earthquake struck the Xinjiang region of China leaving six people dead and destroying 3,000 homes.
In January last year, 16 workers died after a fire at the Dadong shoe factory in the same city rescuing more than 20 people, according to the Boston Globe.