A top Chinese investor is keen to get the jump on Virgin Galactic and launch trips to the edge of space using weather balloons from China.
KuangChi Science has announced that it plans to invest 10 million yuan ($1.5m, £1.12m) into developing a futuristic theme park in Hangzhou province called "Future Valley", that comes with a series of rides aiming to let people experience what it would feel like to be an astronaut in space.
The most exciting experience planned is what the company calls a "deep space tour", whereby a weather balloon carries a capsule up to 21km above the ground at the top of the Earth's atmosphere to simulate real space flight, which the firm says will fulfil mankind's dream of going into space.
KuangChi Science has already designed what the space capsule will look like, stating that it will adopt a similar airtight cabin design as featured in the Shenzhou 5 rocket that carried the first Chinese astronauts into space in October 2003.
"Our mission is to develop science and technology that create a future life ecology. We have chosen Hangzhou because it is a city that embraces innovation and tolerates failure, for the Valley. Moreover, the Qingshan Lake, where the Valley is going to be built, has a large water surface and cubical space for us to run the machine," KuangChi Science president Liu Ruopeng told China Daily.
"Science needs globalisation to deliver a connected system that fundamentally changes every aspect of people's life. An important theme of the event is to connect the world into a common community, which is exactly what future science needs to create new productivity."
The Traveller space capsule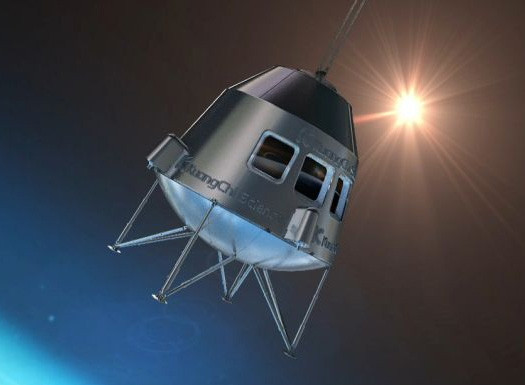 The Traveller capsule is apparently designed to be as airtight and strong at the crew capsule used by the Shenzhou 5 space rocket
KuangChi Science
Among other things, the Traveller capsule will feature compound glass windows for sightseeing, a pressure system and air conditioning to enable passengers to feel as if they are "sitting in a limousine car", while extra helium will be carried on board in case of emergencies.
To mitigate the force of gravity during descent back to Earth, the space capsule will feature a ballistic parachute that will open in stages, as well as a landing buffering gasbag system to slow the motion of capsule as it lands.
Of course, the passengers will not have to do anything during the trip, as KuangChi Science has designed a "high speed computer management system" and mounted a large number of sensors onto the capsule to ensure safety and help the park's crew control the capsule and weather balloon's journey.
Apart from the starring attraction, KuangChi Science also hopes to offer other ground-based experiences, such as a futuristic room where artificially intelligent furniture can think and move by itself and even configure themselves into a new pattern.
Richard Branson's Virgin Galactic wants to be the first commercial company offering space tourism in the world, and recently received an operator licence for the latest incarnation for its SpaceShip Two spacecraft from the US Federal Aviation Administration (FAA), which means that it is considered to be safe enough to be used for flights.
The challenges facing space tourism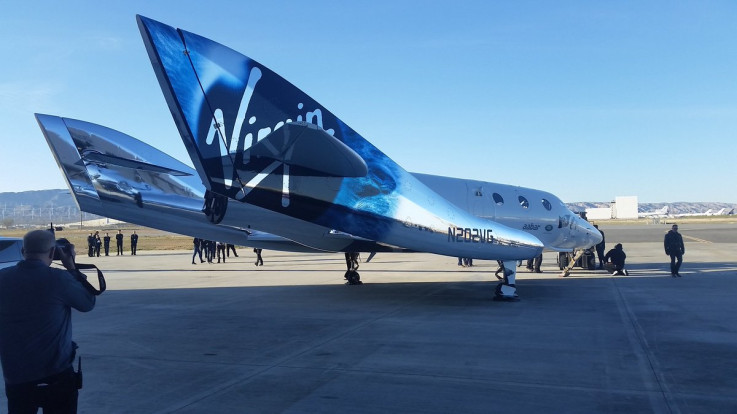 Virgin Galactic's unveils a new SpaceShip Two to replace the spaceplane involved in the tragic accident in 2014
Virgin Galactic
However, the progress has not been easy – in October 2014, a test flight for a previous model of the SpaceShip Two went horribly wrong, killing one pilot and injuring the other.
An investigation into the incident by the US National Transportation Safety Board later found that the tragedy occurred because the manufacturer had failed to take into account the possibility that any single human error committed by the pilots could lead to a "catastrophic hazard".
KuangChi Science has come up in the news before – it is the firm backing the world's first personal jetpack that was invented by New Zealand-based Martin Aircraft Company. Not much else is known about KuangChi Science's plans, other than that they are clearly serious about futuristic disruptive technologies.
To that end, the firm has already announced a launch date for the theme park, which will be at the end of 2017, and KuangChi Science is inviting about 3,000 scientists from over 40 countries have been invited to conduct research at the park when it opens.
But will it be safe?
While flying in a space capsule, taken up to the edge of the atmosphere by a weather balloon may sound incredibly cool, the reality is that it may not be that safe.
In order to make edge-of-space trips feasible, KuangChi Science would need to ensure that the space capsule is strong enough to handle multiple journeys – something that most space capsules are not designed to do, with the exception of the Orion multi-purpose crew vehicle (MPCV), which is being developed by Nasa and Lockheed Martin to be reusable for up to 10 flights.
Otherwise, the price of using a completely new space capsule for each flight would make the price prohibitively expensive, and that still won't take away the safety issue. If something malfunctions in the capsule, how can the theme park back on the ground ensure that the passengers are safe?
It's not like a federal astronaut space mission, whereby multiple seasoned aerospace engineers are on hand and have a huge vested interest in making sure that the mission doesn't fail, and this is just one of the many considerations that KuangChi Science will have to bear in mind to make such an idea possible.