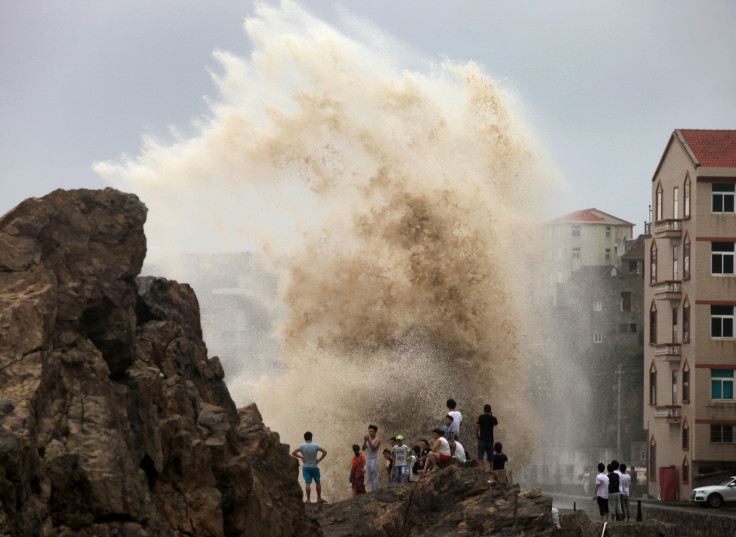 The ferocity of Soudelor caused authorities to cancel hundreds of flights and evacuate over 163,000 people.
The typhoon lashed the east coast of China, leaving 22 people dead or missing as wind felled trees and triggered flash floods and mudslides. One city in northern Taiwan saw a 210kph (131mph) wind gust.
Six people were killed in Taiwan on Saturday 8 August and the typhoon injured nearly 400, before moving across the Taiwan Strait and advanced on the mainland's Fujian province later in the day.
The dead or missing included an eight-year-old girl, her twin sister and their mother who were swept out to sea, a firefighter who was killed while another was injured after being hit by a drunken driver as they attempted to move a fallen tree.
Storm chaser James Reynolds told CNN from southeastern Taiwan that ferocious winds and rain hit as the storm made landfall, as well as huge waves battering the coastline.
The result, he said, "was a lot of flying debris, a lot of tree damage and along the coastal areas, the waves had inundated the low-lying areas, damaging the roads in places as well as some vulnerable properties which were right by the coast".
The powerful storm then turned towards the provinces of Zhejiang and Jiangxi on Sunday, the Xinhua state news agency said.
TV footage showed partially submerged vehicles abandoned on flooded roads as army personnel struggled through fast-flowing water to retrieve victims.
The Fujian Civil Affairs Department said that the storm collapsed 36 houses and damaged 281 others. More than 163,000 people were evacuated from the homes in Fujian and more than two million households experienced power cuts and blackouts, according to a Reuters report.
Authorities deployed more than 35,000 military personnel to relocate residents.
In Taiwan, weather conditions improved slightly by Sunday although the Central Weather Bureau warned that conditions were hazardous. The clear-up began with teams removing toppled trees, mud and debris from blocked roads.
The Tropical Storm Risk website then downgraded Soudelor to a tropical storm as it moved inland.