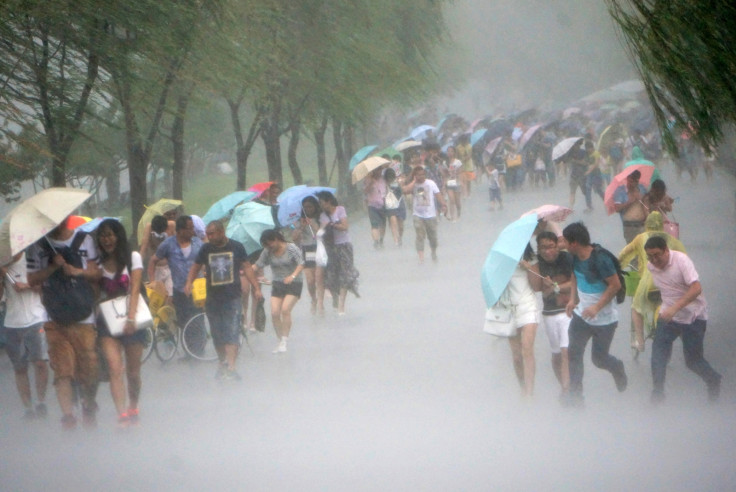 Typhoon Soudelor has left four people dead and one missing in Taiwan as of early Saturday (8 August), authorities said. Twenty-seven others have been injured.
The powerful storm made landfall in the eastern town of Hsiulin at 4.40 am local time and worked its way across the island, ripping apart billboards, uprooting trees and strewing the streets with debris.
Among the four people who lost their lives were an eight-year-old girl and her mother who were swept into the sea when they were playing on a beach in Yilan County, eastern Taiwan, according to the Central Emergency Operation Centre (CEOC).
Another eight-year-old girl was pulled from the waves by rescue workers and survived.
Power lines were down leaving some 1.87 million households without electricity.
The typhoon is expected to move into the Taiwan Strait later during the day while continuing its fury on the island through the day.
It is packing maximum sustained winds of 173 kph, with gusts reaching 209 kph, said the Central Weather Bureau.
The bureau warned of wind gusts reaching some 150 kph and extreme rainfall across Taiwan.
Soudelor has already unleashed heavy rainfall of around 1,241.0 millimetres (48.86 inches) at Taipingshan, Datong Township, Yilan County.
Earlier in the week, Soudelor became the strongest storm this year packing wind speeds of 290 kph, according to the Joint Typhoon Warning Centre.
Though much weaker when it hits China later on Saturday, Soudelor is predicted to pack hurricane-strength winds.
Nearly 5,000 people, mostly fishermen, have been moved to safer areas in Fujian province, expected to take a direct hit from the typhoon, reports Xinhua.