China and Vietnam have vowed to set aside their differences over the South China Sea and instead strengthen bilateral ties. Chinese Premier Li Keqiang said both the countries must work together to maintain 'peace and stability' to contain regional tensions.
Meeting Vietnamese Prime Minister Nguyen Xuan Phuc in Beijing on Monday (12 September), Li said the dispute over the hotly contested waters involved "national feelings" of Chinese and Vietnamese.
"China and Vietnam should work hard together, scrupulously abide by their high level consensus, maintain maritime stability, manage and control disputes, promote maritime cooperation, continue to accumulate consensus, jointly maintain maritime and regional peace and stability and create conditions for the stable development of bilateral ties," Reuters quoted Li as saying.
Phuc said Vietnam will approach issues with China in a peaceful manner and in a spirit of equality and mutual respect. He suggested that both sides prevent the maritime issue from casting a shadow over bilateral relations.
Visiting China for the first time as prime minister after a leadership reshuffle in Vietnam in July, Phuc said Hanoi will work to enhance political trust and cooperation with Beijing. Li said China will step up high-level exchanges and people-to-people contacts with Vietnam.
China and Vietnam have overlapping claims over some islands in the hotly contested waters. Hanoi had welcomed The Hague ruling over the territorial dispute in the case brought by the Philippines and called for a peaceful resolution. But it also affirmed its sovereign claims there.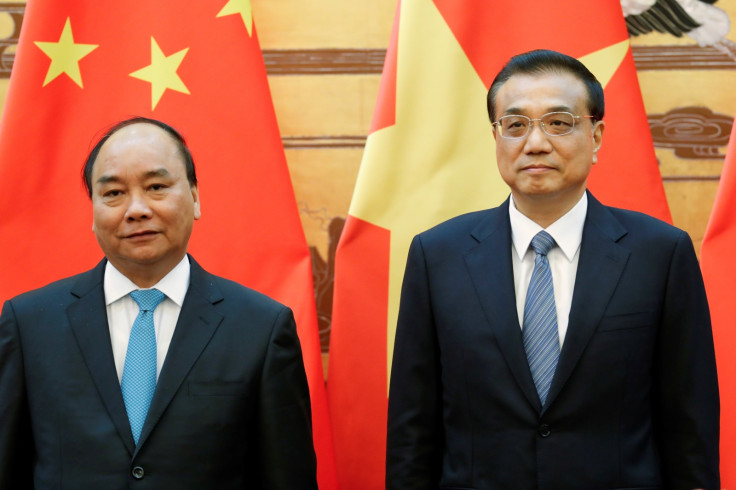 Despite several warnings from the US and countries in the Asia Pacific region, China has reinforced its claims over the disputed waters with constant patrolling by its coast guard ships near the Spratly Island and the Scarborough Shoals.
China is also conducting an eight-day-long massive joint military drill with Russia in the South China Sea saying it will focus on "seizing and controlling" of islands and shoals.
According to Reuters, Hanoi is in the middle of building its military base quietly, which analysts claim is designed as a preventive measure to secure its 200 nautical mile exclusive economic zone.