Chen Guangbiao, the Chinese millionaire who sold cans of fresh air to residents of smog-ridden Beijing, said he was in talks to buy the New York Times.
The 45-year-old recycling tycoon was scheduled to meet a "leading shareholder" of the Times on 5 January to discuss his offer of $1bn (£607m, €733m) for the newspaper.
The New York Times has a market value of about $2.4bn but its publisher denied it was up for sale.
Chen said he had convinced a Hong Kong-based "Jewish-American" financer to part-fund the proposed deal, reported Reuters.
The unnamed financer, expected to invest $600m, had previously executed two acquisition deals with US media outlets but Chen gave no further details other than that they were not as big as the NY Times.
Chen said that he had hired a US-based financial services firm to assist with the acquisition attempt. "I've already spoken extensively with [the US financial services firm's in-house] lawyers the last time I visited the US," Chen told the news agency.
An NY Times spokeswoman said she "had no information about any such meeting" between Chen and NY Times shareholders.
Very little is known about Chen's privately held demolition and recycling firm, Jiangsu Huangpu Recycling Resources.
The Hurun Rich List of China's super-wealthy said that Chen was worth some $740m in 2012.
He has made a name for himself as a philanthropist with his high-profile charitable donations which remain popular across China.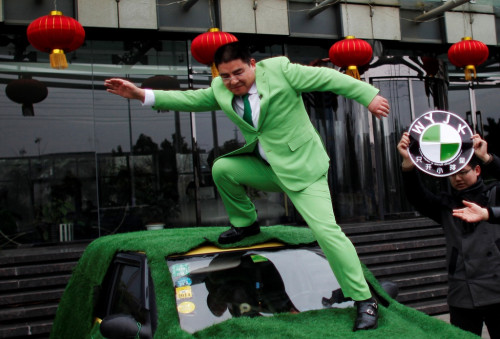 Chen's previous publicity stunts include selling air in cans for five yuan during a particularly smoggy week in Beijing last January. For each can sold, 0.10 yuan was donated to charity.
Earlier, he gave away 2,000 bicycles in Beijing to promote a carbon-free lifestyle and made earthquake survivors pose with money he had donated to them.