Chinese warships are reported to have warned a US navy guided-missile destroyer to abandon its freedom of navigation operation to avoid "accidents" near an artificial island built by Beijing in the disputed South China Sea.
China's foreign and defence ministries strongly protested on Thursday (25 May) after reports emerged that Washington sailed the USS Dewey within 12 nautical miles of the Mischief Reef in the Spratly Islands, a day earlier. It is thought to be the first such challenge to China's unilateral claims while sending a signal about US' intentions to keep patrolling the seas since Donald Trump became president.
The foreign ministry accused the USS Dewey of entering Chinese waters "without permission". It said the US patrols severely disrupted negotiations between stakeholders in the South China Sea territorial dispute.
"The relevant action taken by the US vessel undermines China's sovereignty and security interests," foreign ministry spokesman Lu Kang told a press briefing.
Lu also urged the US to avoid "provocative" actions, adding that they would only cause unexpected "air and sea accidents".
The US was using freedom of navigation as a pretext to "undermine Chinese sovereignty", the spokesman claimed.
Speaking at a monthly news briefing in Beijing, Defence Ministry spokesman Ren Guoqiang said: "The US side's errant ways have caused damage to the improving situation in the South China Sea, and are not conducive to peace and stability."
For the first time, the USS Dewey sailed near a land feature that was included in a tribunal ruling last year against China in The Hague. The Permanent Arbitration Court invalidated Beijing's nine-dash claims in the South China Sea in July 2016.
Washington's patrol infuriated Beijing because the US is not a claimant in the territorial dispute in the South China Sea. However, the US says that its patrols are aimed at showing support for free passage to vessels in the international waters.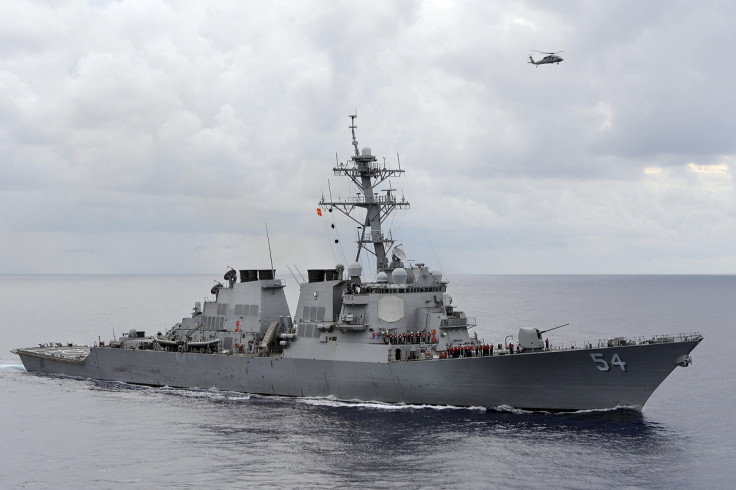 The sailing came at a time when the Trump administration is relying on China to rein in an increasingly belligerent North Korea. However, the US Pacific Command is also thought to be keen on admonishing Beijing as an aggressor in the strategic waterway.