Chris Martin, 40, and Dakota Johnson, 28, are allegedly dating and the romance rumours received further fuel after the two were photographed at a Paris airport. However, it appeared the pair weren't ready to disclose their relationship yet as they preferred to steer clear of each other in the public eye.
In photographs obtained by Mail Online, the Coldplay frontman and the Fifty Shades Of Grey actress are seen separately at Charles De Gaulle airport in the French capital on Tuesday (19 December). The star couple are thought to have spent a few romantic days together in Paris.
Both Martin and Johnson arrived together at the airport but exited separately from the vehicle. They were escorted inside individually by the same security team.
Both the stars kept low profile and ensured they weren't photographed together. Although they were hopeful of going incognito, they were eventually caught out.
Dakota wore a black jacket, jeans and leopard print boots. Her fringe was framing her face and she wore a pair of dark sunglasses. Martin, meanwhile, was bundled up in a woollen scarf and a black beanie and tried to conceal himself behind a pair of aviators.
The secretive pair first sparked romance rumours back in October, when they were spotted on a dinner date at a Japanese eatery in Los Angeles.
At the time, People magazine quoted a source who said the singer and actor couple looked "cosy" together and were "laughing and affectionate".
This was after Johnson was seen drinking wine at a hotel in New York with Jon Hamm, who ended his 18-year marriage to actress Jennifer Westfeldt in 2015.
In November, Johnson was again spotted by fans at one of Martin's Coldplay tour shows in Buenos Aires, Argentina.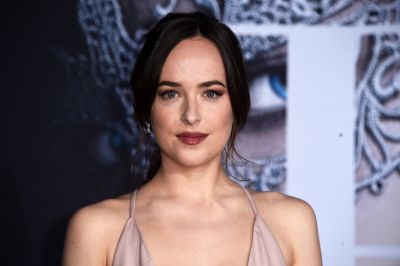 After that the two headed to Israel where they attended Nick Cave's concert. The singer later joined Martin and Johnson for dinner at Yam Sheva restaurant in Herzliya.
Earlier this month, a source told US Weekly: "Dakota and Chris are definitely dating. They've gotten to know each other really well and are very comfortable from one another. Chris sends Dakota his music to get her opinion. It's more than just a fling."
Martin was most recently linked to 21-year-old English singer and model Dua Lipa after breaking up with actress Annabelle Wallis.
Johnson is said to have dated Welsh model and musician Matthew Hitt. She was also rumoured to be seeing British actor Benedict Cumberbatch.
Martin was previously married to actress Gwyneth Paltrow, and shares 13-year-old daughter Apple and 11-year-old son Moses with the Shallow Hal actor.