Christian Bale, star of The Dark Knight Rises, visited survivors of the Aurora shooting in a Colorado Hospital.
The actor, who plays Bruce Wayne and Batman in the blockbuster film, spent two hours at the Swedish Medical Centre in Denver, speaking to those who were injured when a midnight screening of the film was attacked by a lone gunman.
The alleged gunman, James Holmes, fired teargas into the cinema theatre before opening fire on film fans with an assault rifle, shotgun and handgun, killing 12 people and injuring 58.
Bill Voloch, interim president of the Medical Centre of Aurora, told The Denver Post: "The patients were really happy to meet Bale. They are obviously big fans of his movies. They wanted to see Batman and were really pleased to see Bale.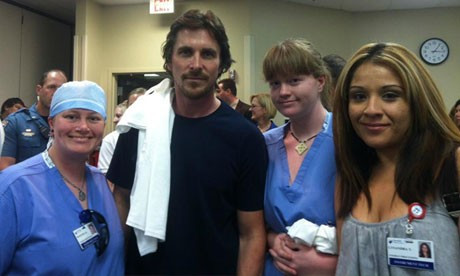 "It was good for the patients. We hope it was therapeutic for them and all the staff really appreciated him coming."
In a statement before his visit, Bale said: "Words cannot express the horror that I feel. I cannot begin to truly understand the pain and grief of the victims and their loved ones, but my heart goes out to them."
Dark Knight Rises director Christopher Nolan also spoke out against the "unbearably savage" attack.
Holmes made his first appearance in court appearing dazed and confused, with wild, dyed hair. He has yet to enter his plea, although police claim he was not co-operating with their investigation.